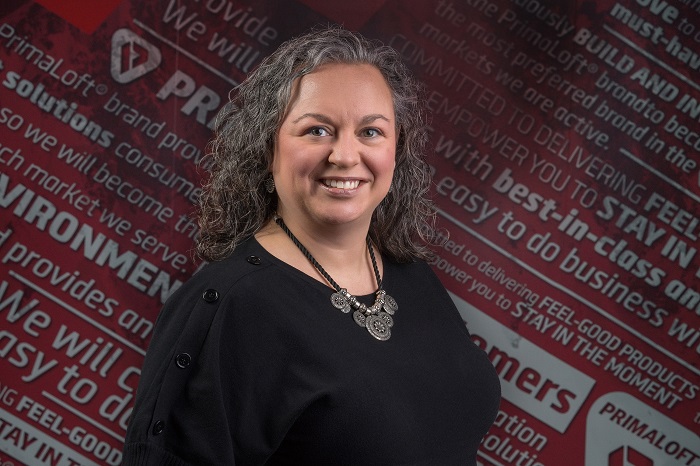 Primaloft set sustainability forward with the first-ever biodegradable*, 100% recycled synthetic insulation – PrimaLoft® Bio. Because we believe there is always a better answer. One of the ways PrimaLoft is Relentlessly Responsible.
PrimaLoft Bio is now in stores! Which benefits are there for consumers when buying a PrimaLoft® Bio™ product?
Vanessa Mason (Senior Vice President Of Engineering, Primaloft) explains the most important points that distinguish this technology:
Consumer make a reasonable choice
Many consumers are more educated than ever when purchasing garments. These conscious consumers are searching for, and in many cases specifically choosing, sustainable products – instead of just looking at the price tags. With PrimaLoft® Bio™, these consumers will see a product that provides the same high quality and performance that they know from PrimaLoft products. PrimaLoft® Bio™ is made of 100% recycled polyester and can return to nature after a long life.
PrimaLoft found a solution for the Microplastic issue
Microplastic pollution is a huge global issue, which we address with PrimaLoft Bio. When wearing and washing garments, microfibers can be released and enter the water system. The PrimaLoft Bio fibers break down to 100% natural elements when exposed to ocean water or waste water, as natural occurring microbes eat away the fibers way quicker than typical polyester. In the end, there is nothing harmful left in the ocean environment.
PrimaLoft found a solution for the end of a garments life
We want people to wear their garments as long as possible. We believe it's worth repairing and reusing garments as often as we can. Outdoor equipment is often specifically designed to withstand a rough nature and is usually very robust. But at some point there will come an end to a garment's life. And usually the consumer does not have control on where they end up – often this is can be in a landfill. And this is another environment, where naturally occurring microbes break down the fibers to the natural elements without leaving behind any harmful waste.
Focus on performance
PrimaLoft products are developed through the lens of our Relentlessly Responsible mission. This is our pursuit to provide technologies that elevate both performance and sustainability, without sacrificing either. For PrimaLoft® Bio™ this means that while we have used 100% recycled material and have added the ability to biodegrade in specific environments, the products featuring this technology offers industry-leading performance characteristics, providing lightweight warmth and comfortable protection for a variety of activities and conditions.
INFO: Primaloft