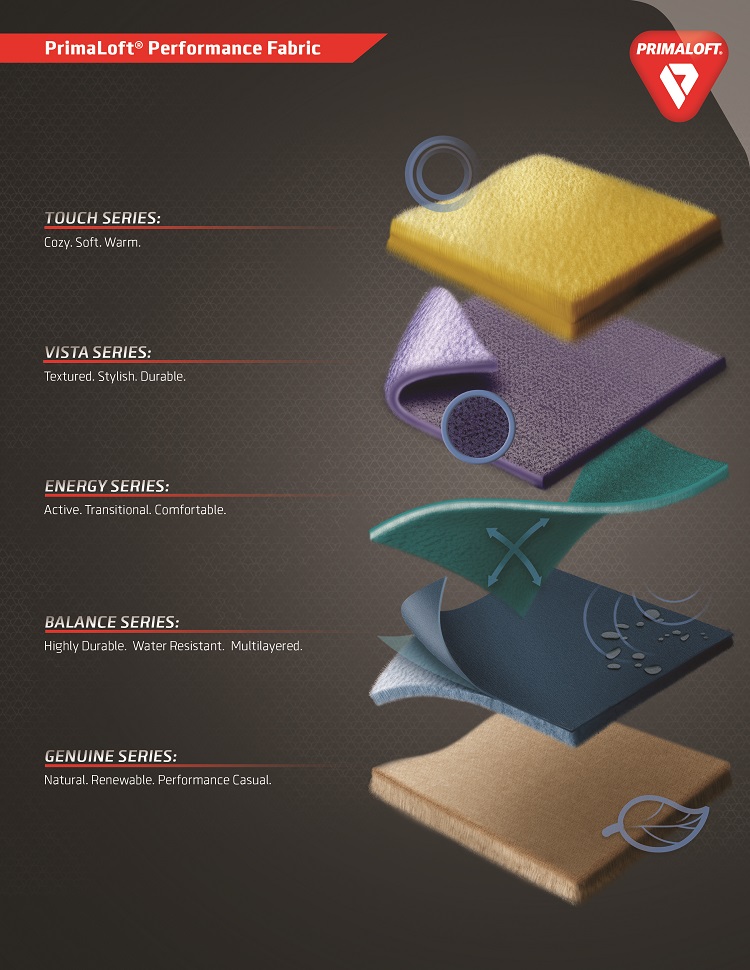 PrimaLoft, Inc., the world leader in providing comfort solutions with high-performance insulation, fabrics and yarns, today announced it has developed an enhanced collection of Performance Fabrics and Yarn technologies, resulting in more year-round product applications and elevated consumer comfort. Available to brand partners immediately, designers now have clearer choices and increased resources to create unique, high-performing garments with the perfect balance of comfort and performance.
"By focusing our material science expertise on Yarn and Fabric, we have created a collection that continue to provide dependable comfort solutions with performance attributes," said Mike Joyce, president and CEO of PrimaLoft. "Long known for providing superior warmth, PrimaLoft is now delivering "comfort solutions" with a diversified product portfolio, focusing on providing more year-round solutions. PrimaLoft® Performance Fabric and Yarn products are launching new platforms to help take us there. With our enhanced series of fabrics and yarns, designers have unique options to use as a stand-alone, or pair with diverse fabrics, allowing our partners to be true to their brand personality and point of difference, whether in outerwear, footwear or accessories."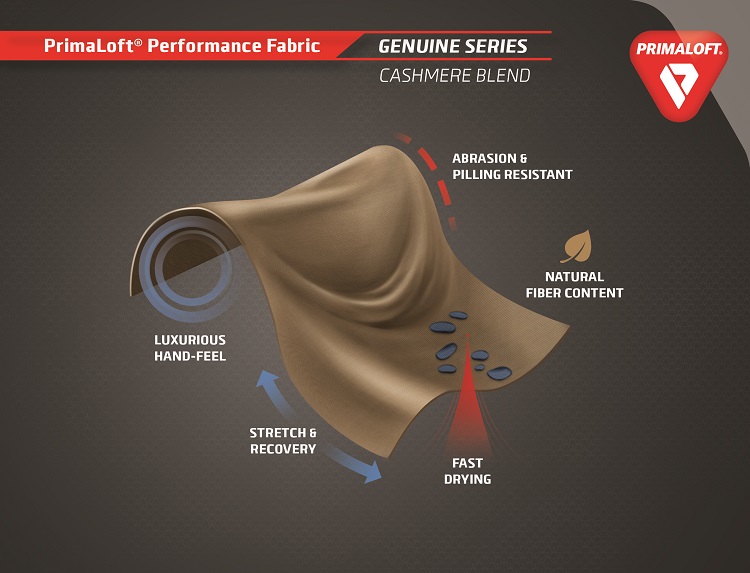 PrimaLoft® Performance Fabrics. PrimaLoft® Performance Fabrics have fast dry times, enhanced breathability, a superior hand-feel and softness, with many products boasting bluesign® and OEKO-TEX® certification. PrimaLoft has organized its fabric technologies into five series, offering a wide range of fabrics suitable for next-to-skin, mid and outer layer applications. The series are: Touch Series, with a focus on softness and warmth; Vista Series, provides stylish, durable textures; Energy Series, ideal for active garments; Balance Series, with multi-layered weather resistant fabrics, and Genuine Series, with natural fiber blends. Historically focused on fleece fabrics, PrimaLoft is excited to introduce the new Cashmere Blend Base Layer Fabric – the first in next-to-skin fabrics to be released.
The new Cashmere Blend is a lightweight, next-to-skin fabric blend that provides consumers an exceptionally soft next-to-skin fabric with a cooling touch, while providing great stretch and recovery, as well as fast dry times, for a dependable performance comfort.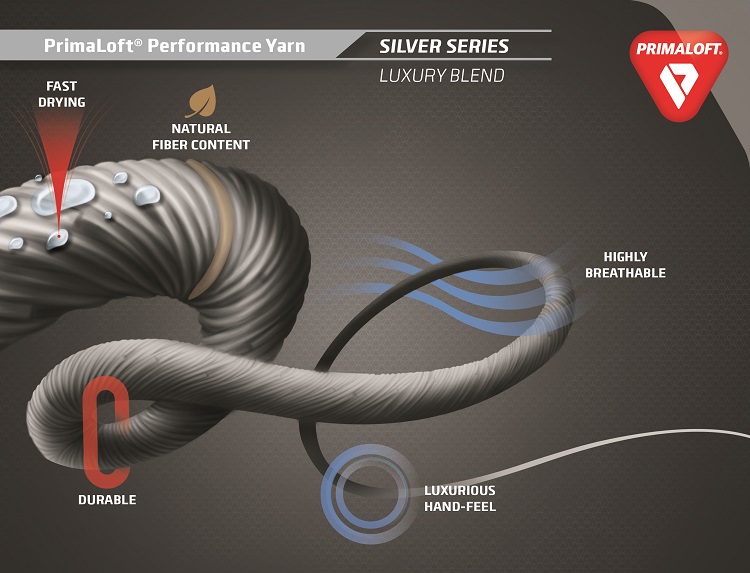 PrimaLoft® Performance Yarn. The PrimaLoft® Performance Yarn collections combine our innovative, market-leading PrimaLoft® fiber technologies with different fibers to create unique blends that provide the perfect balance of comfort and performance. PrimaLoft® Performance Yarns have been engineered to be used alone or combined with other yarns to create knit garments, including socks, accessories, base layer, sweater, and seamless pieces.
Responding to designers' demand for high performing ingredients for knitted garments and accessories, PrimaLoft® Performance Yarns deliver comfort and performance for a range of consumer activity levels. PrimaLoft has organized its yarn technologies and blends into two series. The Black Series provides a versatile offering of classic fiber blends, including PrimaLoft® polyester and an Eco-friendly Polyester blend that contains 70% post-consumer recycled fibers. The Silver Series' yarns provide performance comfort and incorporate feel-good fibers, including silk and Merino wool, to create unique, easy-care pieces.
Now available in the Silver Series is a unique Cashmere yarn blend that creates the perfect balance between indulgence and performance, boasting fast dry times, luxuriously soft hand-feel and easy care. Also, newly added is a Merino Wool blend – a yarn that retains warmth when wet, dries quickly, has a soft hand-feel and is highly resistant to abrasion and pilling.
Respected outdoor and fashion brands utilizing PrimaLoft® Performance Fabric and Yarn technologies include: Adidas, Athleta, Black Diamond, Buff, Bula, Isbjorn, Kailas, Lorpen, Lululemon, Montane, PAC, Rab, Reusch, Rojk Sportswear, Tierra, Splav, Santi Diving, The North Face, Traper, Viking, White Mountaineering, among others.
INFO: PrimaLoft