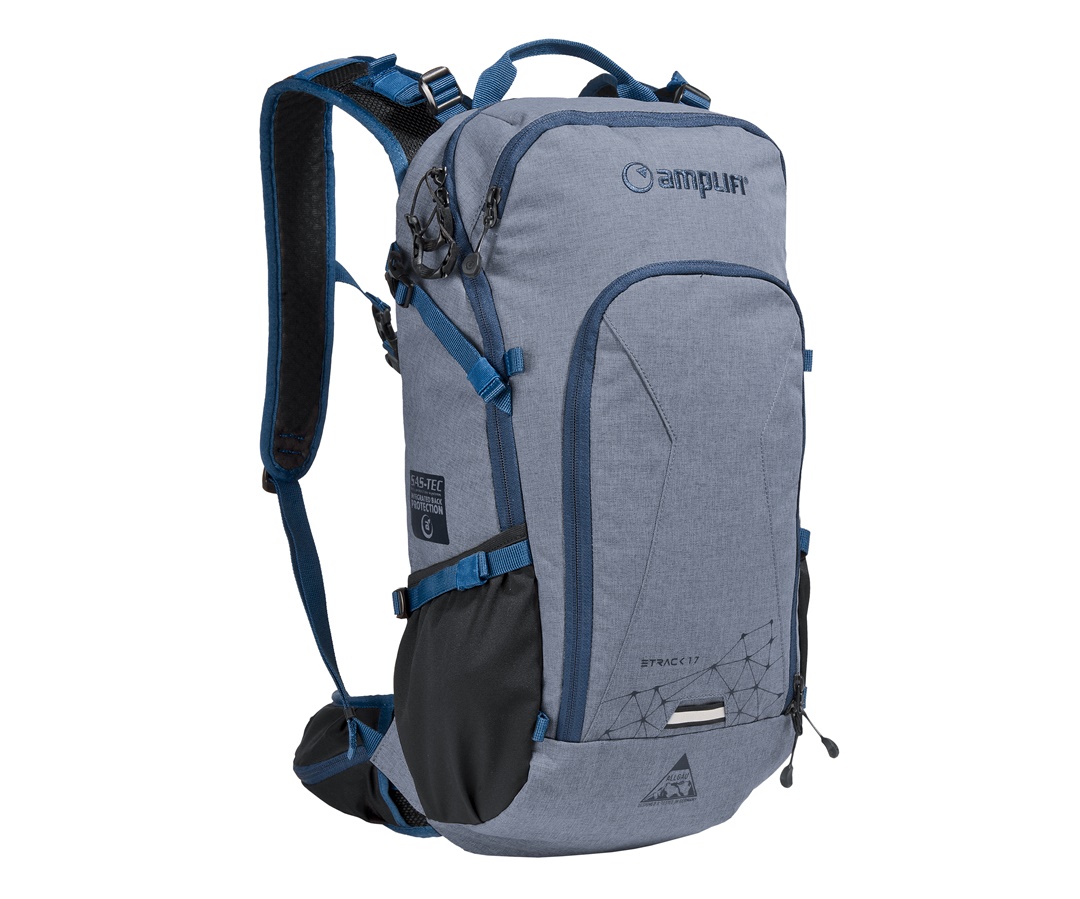 The E-Track has been the first backpack ever designed specifically for the E-MTB rider. The concept is a forward looking design that ticks all the boxes in terms of performance, as well as incorporating a comprehensively designed compartment that makes riding with a spare battery easy.
When getting laps is what it's all about, E-bikes allow you to get back up the hill quickly and efficiently for more downhill trail riding thrills. No fun when your battery dies! Within the new E-Track for 2021 the battery compartment is built from high strength performance insulating neoprene with a roll top closure to fit the majority of batteries on the market, perfectly aligned with your posture to reduce fatigue when laden.
A completely modified interior harness system keeps things in place and close to your back and well safe and supported with a brand new featherweight integrated SAS-TEC protector (only 160 gr.); stopping the heavy battery from shear and yaw!
FEATURES:
Sizes: 17 Liter (M/L), 23 Liter (M/L), 23 Liter (L/XL) – M/L fits batteries up to approx. 43 cm, L/XL up to approx. 50 cm
Colors: stealth-black, heather-blues
Ultralightweight Hybrid-3D Protector made of EPP with great flex characteristics
New battery pocket with roll top chinch down solution to lock in your battery to 100 % adjustable for different battery types
Additional size with 23 liter on the shorter back
MSRP 219,99 Euro.

ABOUT MIPAN REGEN:
AMPLIFI is dedicated to reducing our impact on the environment. This product line uses MIPAN® regen nylon yarn. MIPAN® regen is the world's first certified reclaimed nylon filament yarn made for textile usage. It uses to 100% reclaimed waste, which saves valuable resources from being removed from the earth. High energy saving of petroleum resources during production of the yarn is characteristic for the product. Each kilogram of recycled yarn saves up to 7 kilogram CO2 compared to standard nylon filament yarn production.
The filament has received Control Union's Global Recycle Standard (GRS) certification.
Products made with MIPAN® regen provide excellent tenacity, durability, as well high resistance to tear and abrasion.
The water-repellent coating of those products is without environmentally harmfully fluorocarbons (PFCs). The water- and dirt-repellent properties are based on a DWR (Durable Water Repellency) that is harmless to our environment and health. The surface treatment causes water to roll of the outside of the fabric, thus the product remains dry.
Our continued mission doesn't end with fabrics we use – but it's a good place to start. Check www.amplifisports.com for more information on our continued efforts to preserve the environment in which our products exist.