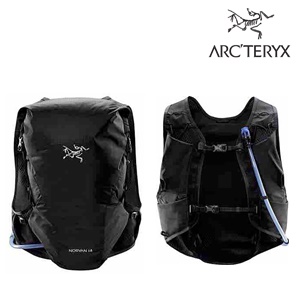 The pureness of simplicity. This is the inexplicable allure of trail running. Unlike equipment-intensive activities, trail running allows runners to experience the vastness of distant peaks and the solace of remote lakes with the least amount of gear. Embracing this minimalist approach, Arc'teryx proudly expands its commitment to the trail running category for Spring 2018 with several products specifically designed to cover the long distances it takes to reach the wildest, most remote places.
Using light-by-construction design principles, Arc'teryx delivers an entirely new assortment of comfortable, functional and protective products that liberate trail runners to move faster, travel farther, and push personal boundaries in isolated locations.
Leading the pack is the Norvan 14 Hydration Vest.
SELF-SUPPORTED LONG DISTANCES
Applying its expertise in apparel design and pack construction, the new Norvan 14 Hydration Vest delivers enough capacity to travel long distances with a fit and comfort never experienced before in a running vest. Built to carry the hydration,
calories and extra equipment needed for extended wilderness exploration, the Norvan 14 offers an exceptionally precise and comfortable 'bounce-free' fit that wears more like clothing, yet with the functionality of a backpack.
The Norvan 14 Vest is the ideal companion for long adventures and training days without aid stations. The vest offers multiple storage options for on-the-go access to water, food, and other key essentials, plus a weather proof compartment to
keep items protected from the elements.
Rugged by construction, yet lightweight by design, the body of the Norvan 14 is built with dynamic, durable and quick-drying WarpKnit™ Mesh for exceptional fit, freedom of movement, and air permeability. A weather-resistant, RollTop™ storage compartment on the back protects contents from weather while four Powernet Stretch Mesh front pockets organize soft flasks, digital tools, and other small essentials for speedy one-handed access.
Side compression straps easily adjust to tighten and minimize load shift. Other critical features include zippered security pockets for keys or cash, exterior trekking pole attachments, and a two-liter Source™ hydration reservoir that integrates seamlessly into the vest for full-time water flow. Also available in a 7-litre version, which offers all the same functionality and features yet with a slimmer profile for shorter trips into wild places.
Arc'teryx athlete and famed alpine runner Adam Campbell field tested the Norvan 14, "Unlike most running/race vests that stop being functional the moment you need alpine gear, the 14L vest is a pure adventure vest that works for self-supported light and fast mountain outings. It also recognizes that mountain environments can be wet and cold, as well as abrasive and its design and durability ensures it can take a beating. This pack doesn't impede movement, it's light and doesn't feel bulky when full."