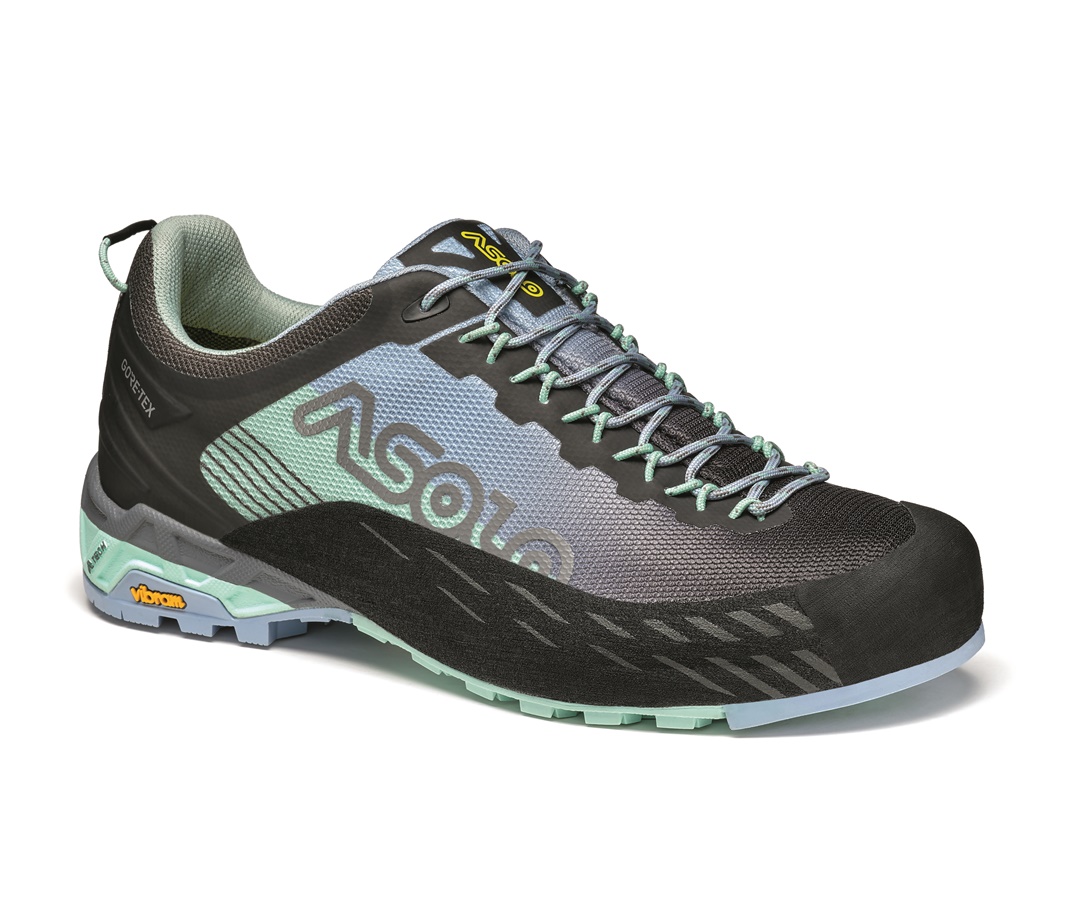 For the Spring-Summer 2022 Collection Asolo introduced a completely new performance approach and day hiking line.
The performance approach shoes are defined by Asolo as special products designed for rock climbers who require unique features in footwear while practicing the art of climbing.
Which is the consumer target for this new line? The models have been engineered for Women and Man who are climbers, adventurous travellers, active people and people connected to nature who are looking for precise expectations on their shoes: Comfort, Support & Traction, Weight & Packability and Design.
Asolo answered to all these expectations with specific solutions.
Comfort:
The greatest level of comfort has been achieved developing a new specific dedicated last for man and a new specific dedicated last for women following the foot morphologies, volumes and characteristics. More, a new lighter Eva midsole has been studied for guaranteeing an amazing comfort and cushioning while on the activity. In addition, for giving an extra comfort Asolo started a new partnership with Ortholite and developed a new footbed for Man and Women. The characteristics of Ortholite are: an eco-friendly footbeds, a unique moisture management, a lightweight footbed, a long term-cushioning thanks to their foam, a high level of breathability and that they are washable.
Support & Traction:
A new rubber outsole has been created in partnership with Vibram. The new outsole presents a self-cleaning design and it uses the MegaGrip compound which assures grip and performances on wet and dried terrains. For adding also an all-around protection we added the PU Asolite: a Pu protection on the both internal and external side of the models while we added a rubber toe cap in the front part adding in this way an extra protection.

Weight & Packability:
This has always been and important consideration for Asolo; weight is a primary concern when you clip your shoes or stow them in your pack. For this, in our new line we achieved a unique weight without compromising the performances.

Design:
Our in-house designers work with trusted manufactures from the initial concept to the final product for building pieces that bring a one-of-a-kind stamp to the project.

Technical Specification for the Eldo GV:

Best use: Light and agile boot designed for technical approaches and day hikes.
Upper: Technical seamless polyester
Lining: Gore-Tex Extended Comfort Footwear
Anatomic Footbed: Asolo/Ortholite
Fit: Man & Woman
Weight: 290 grms (half size 8 UK)
Size: 4-8 UK (Woman) / 7-12,5 (Man)
Outsole: Asolo/Vibram AG with MegaGrip compound (rubber-eva).