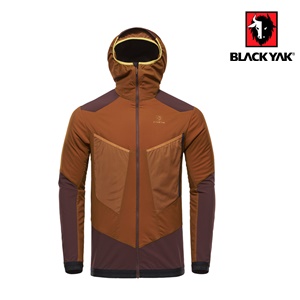 PALI LINE MEN | PDW7002
Style, function and warmth. The BLACKYAK Signature Jacket has been introduced to the collection as a brilliant new functional insulation item. This jacket is constructed using a mixed combination of lightweight and protective materials like Polartec® Alpha® that will provide you with a fantastic range of movement, comfort, warmth and breathability.
A high rise collar and great fitting hood tensioned with elastic for a perfect fi t raise the comfort. Cuff s and hem edge are under tension with our new "Y" shaped branded elastic for a perfect fit. The shoulders have been enhanced inside with 3D mesh, whilst CORDURA® protects the shoulders from the outside. This is a perfect regulator for comfort whilst carrying backpacks or skis. The CORDURA® backside panel is decorated with BLACKYAK's tradition tonal branding and detailed laser perforation allowing transfer of moisture.
At the front of the jacket there are our large elasticated signature mesh storage pockets for all necessary belongings. Inside this jacket the final workmanship is very clean – a single zip pocket functions also as a storage sack.
SIZES: 48-54 | S – XL
PADDING: Polartec® Alpha®
FEATURES
2 big mesh chest pockets
1 inside pocket with zip
Anti slip Y-band at body hem and cuff s
High rise colar
Elasticated hood solution
3D mesh padding in shoulder
Laser perforated back panel
(for maximum ventilation)
FABRIC: Lightweight Stretch Nylon / Stretch CORDURA® Double Weave /4-Way Stretch CORDURA®