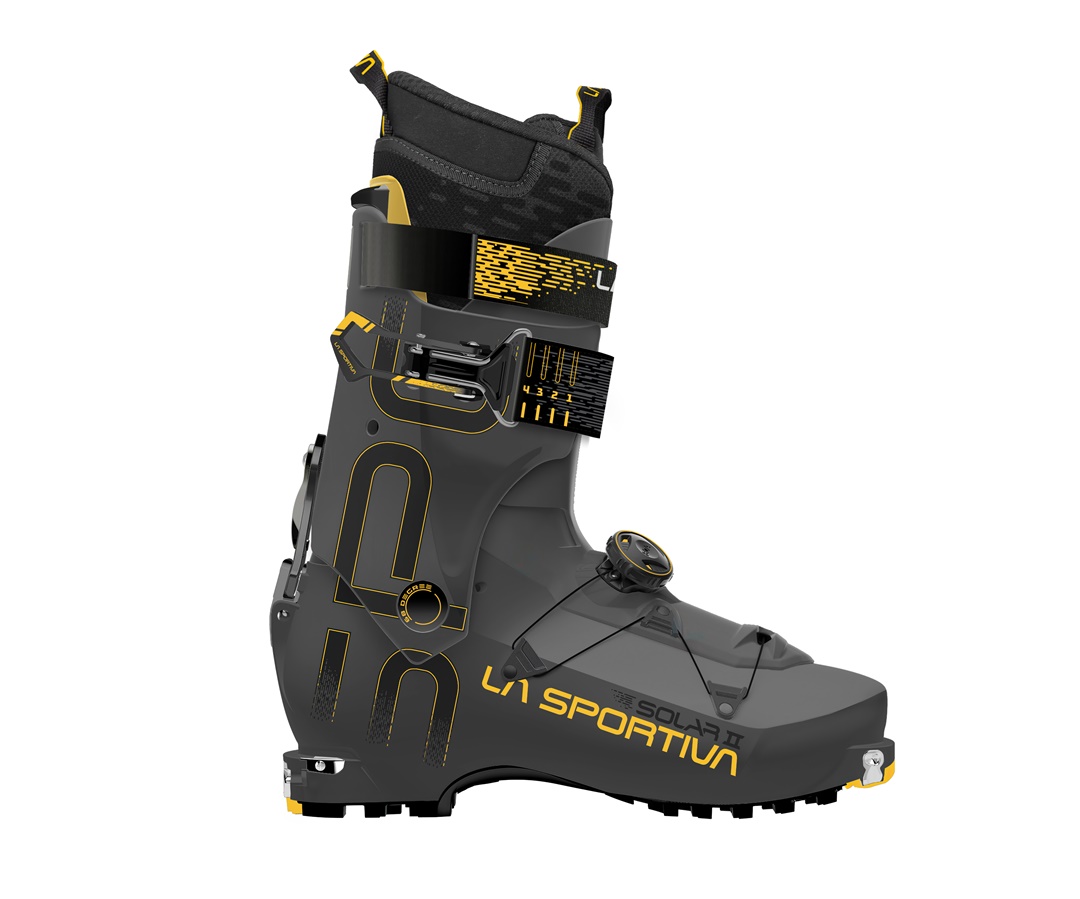 Solar II is the boot dedicated to all-rounder ski mountaineers looking for the best mix of ascent and descent performance as well as comfort.

Ease of fitting and use make it a boot suitable for anyone starting out in ski mountaineering and looking for versatile, high-performance gear. The internal shape is anatomical for a perfect fit and maximum comfort. The introduction of the BOA® Fit System provides micro-adjustable precision for an exceptional fit and allows to put on and close the shell fast and effortless. The cuff range of 68° gives you maximum mobility when moving at speed and safety in every situation. While the patented ski/walk system called SWING-LOCK™ makes it really simple to move from ascent to descent modes. Solar II is a comfortable, safe boot that's fast on ascents, high-performance and progressive on descents.
SHELL AND CUFF:
Pebax®-Shell™: made from bio-based Pebax® Rnew®. Ergonomic, high-performance shape. Highly durable at low temperatures and excellent flexibility

Pebax®-Cuff: cuff in bio-based Pebax® Rnew® with an exceptional 68° range, permitting maximum mobility to move at speed and in safety in any situation. The detachable spoiler makes it possible to completely customise the angle of movement

3D Flex Tongue™ with Boa Fit System: tongue in bio-based Pebax® Rnew® with joint between the upper and lower sections as well as overlap system to customise the fit. Offers a wide range of movement at the ankle both during steep inclines and when crossing sections of flat terrain

2BT Tech Last™: internal anatomical shaping for the perfect fit and maximum comfort. Makes it possible to achieve the best precision fit

2BT Tech Heel™: optimisation of heel space for a precise, comfortable fit

WarmSole™ Insert: removable internal insole in insulating polyurethane. Avoids direct foot's contact with the internal shell, offering improved comfort and optimal heat insulation.

Progressive Grade System™: fast adjustment system for the leg angle with spoiler insert with adjustable height.

Closure System: BOA® Fit System allows fast, effortless and micro-adjustable precision fit

SWING-LOCK Closure System™: back Ski/Walk system with pivotal rotation, ensuring optimal fastening speed and avoiding the exposure of mechanical parts to damage, weather and any other external stress

EASY 2 WEAR System: superior closure system to facilitate all fits with a single-level closure and a quick attachment/release mechanism, including a micro-metric Velcro band for small adjustments

Power Strap: additional closure band in Velcro allowing extra adjustment to the front tension.

La Sportiva Grip Guard™: tread with abrasion-resistant heel and toe cap inserts and outstanding durability. Compatible with TECH fittings.

Solar II  Liner: thermo-formable liner designed specifically to work in synergy with the shell and the cuff, providing an ergonomic, snug fit and optimal comfort. Ankle protection provided by mountings created with varying thicknesses of material.

Liner: (230g  – 69U999100 – photo)
Weight: 1,185g. 1/2 pair (size 26.5)
Sizes: 24-31.5 +1/2
Fitting Compatibility: Tech
Angles: 3 POSITIONS 12° – 14° – 16°
Range: 68°
Max: 101.