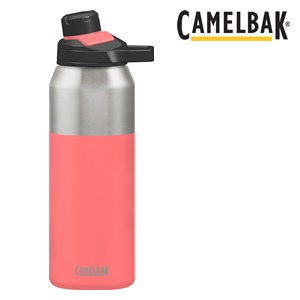 For those who want cool water all day long, CamelBak introduces CHUTE® MAG, a stainless-steel vacuum insulated outdoor bottle, with a double-wall construction, that keeps beverages cold for 48 hours (1,2L and 1L versions) and warm for up to 6 hours; regardless of the outside temperature. The bottle features a large, ergonomic, rapid-flow spout designed at an angle for immediate access to hydration. CHUTE MAG is provided with an innovative, magnetic, leak-proof cap, tethered to the bottle. Thanks to the integrated magnet the cap adheres to the bottle and locks in place while you drink or pour your hot or chilly tea, cold liquids or soups. CHUTE MAG, in its vacuum version, is available in a stylish palette of two-toned designs and comes in three capacities: 1,2L – 1L – 0,6L.
Magnetic handle keeps cap stowed while drinking

Stays cold up to 48 hours and hot up to 6 hours

Leak-proof

Vacuum insulated to maintain temperature

Ergonomic high-flow spout

Comfortable carry handle

Cap is dishwasher safe. Hand wash vessel.

BPA, BPS & BPF free

Available in 8 different colors.