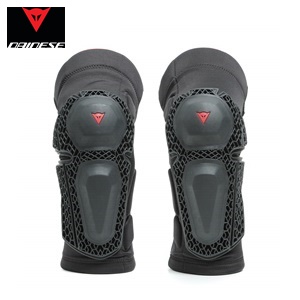 Two years of research into races and high performance materials were necessary to develop the most advanced Dainese knee pad of all time. The ENDURO KNEE GUARDS 2 features a complex hybrid construction that mix together the extra mobility and breathability of the nature-inspired Pro-Armor with the high durability and impact resistance of the ABS technology. The engineered construction is conceived to cover specific areas of the knee bones like the kneecap and the shinbone, while the extended Pro-Armor construction provides great coverage to cartilages in case of sliding falls. An extra protection is offered by the three Crash Absorb pads on the inner section, that avoid bumps with the frame and other possible injuries. The ENDURO KNEE GUARD 2 is developed around the shape of the knee, to provide the rider with extreme freedom of movement while pedalling and maximum comfort even after several km of aggressive riding. The choice of those who are always looking for impossible lines to be drawn.
Protection: the particular hybrid construction, extended all over the knee bones, replicates body biomechanics, while maintaining mobility and coverage during stretching, compression, twisting and flexion. The front ABS plates provide the rider with high impact resistance and ensure to slide down the track during falls while the Pro-Armor and the Crash Absorb side padding bolsters ensure great coverage also on most delicate side parts of the knee.
Anatomy:  the pre-curved hybrid construction of the Enduro Knee Guards 2, allow the rider to have no restriction both during climbing and downhill phases, especially during relaunching sections. The elastic bands were completely redesigned to follow perfectly the leg shape, while the calf elastic gripper allow the pad to stay firm during the ride.
Lightness: the fractals-inspired structure, with all its grain and air intake, not only result in a high level of protection, but also offers unmatched degree of breathability and ventilation compared to other certified protectors on the market. The new Airnet sock, paired with the Jersey Hole mesh on the back of the knee, ensure the rider to feel fresh and comfortable even during over-heating phases.
Available Sizes: S-XL
RRP: 110,00€
Materials:
Airnet reinforced elastic sock
Crash Absorb soft memory foam
Jersey Hole Highly Breathable, Run-Resistant mesh
Features:
Inner wide elastic band with Velcro strap adjustment
Silicone grippers.
Homologation: CE EN 1621.1 LEV 1