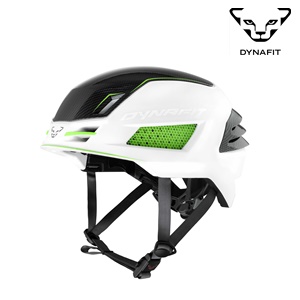 An innovation for added safety: The DNA Helmet from DYNAFIT satisfies all safety standards needed by ski touring helmets with its double certification. The CE EN 12492 certification ensures safety on the ascent (ski mountaineering), while the alpine ski certification CE EN 1077 means helmet protection on the descent too. With its special in-mold construction and premium materials such as Koroyd®, product developers succeeded at launching the helmet weighing a mere 290 grams despite satisfying the needs of both standards.
The helmet was produced using an in-mold process, which stands for the best technology available for manufacturing lighter and more durable helmets. In order to improve helmet ventilation on both the ascent and descent, product developers at DYNAFIT used a special material called Koroyd®. It is composed of 95 percent air and provides for advanced ventilation of the head. This is a particular benefit during high-intensity activities and competition. The material is made of polymers that are blended and bonded during a special melting process. The honeycomb-like material's consistent and efficient energy absorption is another strength. This means that the material responds uniformly to impacts and blows to reduce forces.
For quick and precise adjustment of size and fit, the helmet is equipped with the proven technology of the BOA® 360° closure system. The name says it all: The adjustment knob at the back of the head enables adjustments in both lateral and linear directions. That means the helmet fits the head from all sides. During adjustment, athletes will feel how the pull is distributed all around the entire head to avoid pressure points. In addition, the adjustment knob can be operated with one hand, not only while moving but also when wearing gloves.
For both professional and recreational racers there is one more point of interest: The helmet also satisfies the standards of the International Ski Mountaineering Federation (ISMF). As of the 2016-17 season, only helmets that have double certifications (fulfilling both mountain and ski standards) will be allowed at competitions.
The new DYNAFIT helmet series includes five helmets with double certification and thus covers the entire breadth of needs from ski running to free touring.