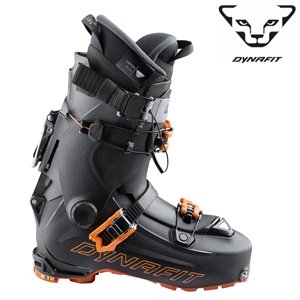 Should a ski touring boot be oriented more for the ascent or the descent? As of Winter 2018-19, this basic ski touring question will finally be a thing of the past because DYNAFIT has eliminated the question of "either-or." Now, it is simply both. With the Hoji Pro Tour the mountain endurance brand is launching a revolution in ski touring boots. It is setting new standards when it comes to functionality, handling and comfort. With one simple motion, the boot is transformed from an efficient and light climber with excellent freedom of movement into an alpine downhill miracle that will thrill with its rigidity and optimum power transfer. Performance compromises? Not with this boot – and the same goes for cold fingers or stressed-out fumbling around when switching between climb and ski modes. Thanks to the patent-pending Hoji Lock System, the switch between modes is child's play and utterly comfortable with just a simple kick of the boot: The ski/walk system's mechanism is an integral part of the closure system — consisting of three buckles and an Ultra Lock Strap. So, the boot is adjusted with just a single lever.
The development team at DYNAFIT has been working together with Canadian professional big mountain skier Eric "Hoji" Hjorleifson and Low Tech Binding inventor Fritz Barthel for three years to fine-tune this new ski touring boot. The ambitious goal: A boot that both passionate climbers and downhill-oriented backcountry skiers would equally embrace. The result: excellent articulation (range of motion) in the cuff for the way up, and the fresh powder performance of an alpine ski boot. In addition, this new all-rounder should also have impressive and simple handling as well as be light, comfortable and 100-percent reliable. Bottom line: Bar none, it should be THE backcountry boot of choice. With the Hoji Pro Tour, the inventors have come up with a true masterpiece. It will be available for Winter 2018-19 in both men's and women's models. There are no compromises with this new ski touring boot. On the descent, it totally holds its own against alpine competitors thanks to its high rigidity and optimum power transfer to the ski. At the same time, the boot enables efficient climbing technique with superb comfort and maximum freedom of movement while remaining lightweight. These characteristics lend the Hoji Pro Tour a unique selling point in the industry.
Either-or is so yesterday — One move to switch
The Hoji Pro Tour weighs in at a light 1,450 grams (size 27). On the ascent, the V-shaped tongue and the cuff rotation of 55 degrees mean maximum freedom of movement, flexibility and comfort. This enables a natural, energy-saving walking motion even on very steep terrain. The time-tested Speed Nose means a more minimal toe and a setback pivot point for increased efficiency, agility and maneuverability. Downhill, too, this boot knows how to be totally convincing. Thanks to its unique construction and closure system, the Hoji Pro Tour is one of the most rigid ski touring boots on the market today. Its ideal flex means the boot supports the foot precisely, holding it in a stable position and thus offering optimum power transfer. With a last width of 103.5mm, an Ultra Lock Strap and three micro-adjustable buckles, the foot sits ideally positioned to deliver performance and function precisely on the downhill, even in demanding terrain. The quick and simple switch between uphill and downhill modes is accomplished with just one kick, thanks to the patent-pending Hoji Lock System. The ski/walk system's mechanism is integrated into a technically intelligent cable system along with the cuff-buckle and the Ultra Lock Strap. For the switch into downhill mode, only the rear lever must be moved. After that, the boot is locked into an 11-degree angle and, together with the buckle system, is then ready to take on whatever aggressive skiers throw at it.
Tech Info:
Shell:

Grilamid

Cuff:

Grilamid

Spoiler:

Grilamid

Technology / Features

: Ultra Lock Strap, Master Step, Progressive Forward Flex, V-Shape Tongue, Safety lock buckles

Sole:

Pomoca

Sizes:

25 – 30.5 Men (including half sizes) / 

22.5 – 27.5 Women (including half sizes)

Weight:

1450 g / 1320 g

MAP

650 Euro

Made in Europe.