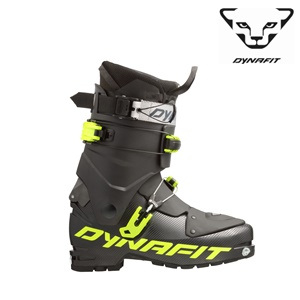 Ski touring as a sport is becoming broader and more varied. An increasing number of ski tourers train on-piste to be able to accomplish quicker, less complicated and safer runs to improve conditioning. Ski touring athletes, who are always thinking about their training, can now look forward to next winter with DYNAFIT: the brand for mountain endurance athletes is introducing for the first time ever a set-up designed just for on-piste ski touring enthusiasts. 365 days a year training. 365 days a year DYNAFIT. Any time of the day with the appropriate lighting.
TLT SpeedFit Boot. Ski touring on piste. Uncomplicated, fast, serious, no frills — above all, developers have focused on comfort while walking. To do that, they haven't reinvented this TLT model. Instead, they have simply added features to the TLT Speedfit especially for this use: A new boot liner combines comfort and performance. A new Pebax tongue offers additional comfort on the ascent and great freedom of movement. The re-engineered and reinforced upper also ensures improved performance on the descent. These features make the TLT Speedfit the perfect boot for athlete on-piste touring.
Comfort plus top performance combined with durability, efficiency and stability were the focus in development of the new TLT Speedfit. At just 1,190 grams (2.6 lbs) this boot is based on the proven DYNAFIT TLT line, thus a minimalist, easy-to-handle ski touring boot without bells and whistles. The Ultra Lock 2.0 closure system means simple handling. The boot is adjusted, opened and closed with one single buckle — thus saving time and handling.
Plus, this boot features a new boot liner that promises extra comfort for on-piste ski touring. Superior insulation and enhancements to the lining protect feet from the cold even during night skiing. Nevertheless, the liner's weight is comparable to the lightest boot liner, the Custom Light.
A soft Pebax tongue gives more flex in the forward lean and guarantees comfort and support during fast, dynamic ascents. In the body position for descents, the upper made of Grilamid® has time-tested rigidity and can be simply and reliably secured. Additional reinforcements to the upper guarantee sturdiness even under higher loads, promises long-lasting durability even for those who rack up many meters of vert every day. The Ultra Lock Strap with quick lacing can be adjusted with one hand, so you can individualize the fit quickly by tightening or loosening it.
The POMOCO rubber blend in the outsole doesn't change when temperatures do and offers consistent performance when it comes to grip and stance while walking. This ensures on-piste ski tourers are well equipped even on hard, icy conditions or while carrying skis.
Gender: Unisex
Weight: 1190 g (size 27,5)
Forward Lean: 15°-18° + Release for Walking
Boot sole: Formula Pomoca Climb
Cuff rotation: 60 °
Closure System: Ultra Lock System 2.0
Boot-Binding System: Dynafit Quick-Step-In
Liner: Custom light
Material: Grilamid®
Made in Europe.