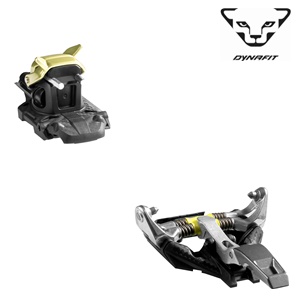 Ski touring as a sport is becoming broader and more varied. An increasing number of ski tourers train on-piste to be able to accomplish quicker, less complicated and safer runs to improve conditioning. Ski touring athletes, who are always thinking about their training, can now look forward to next winter with DYNAFIT: the brand for mountain endurance athletes is introducing for the first time ever a set-up designed just for on-piste ski touring enthusiasts. 365 days a year training. 365 days a year DYNAFIT. Any time of the day with the appropriate lighting.
TLT Speedfit Binding. With its new TLT SpeedFit binding, DYNAFIT has for the first time ever brought together the characteristics of a lightweight ascent-oriented binding with the advantages of a classic ski touring binding. The TLT SpeedFit binding for winter 2017-18 is a versatile all-round model at 310 grams (10.9 ounces) with efficient handling.
On first glance, the TLT Speed appears sporty and minimalistic yet it is impressive in its handling as a versatile frameless ski touring binding. This new binding can also come equipped with optional ski brakes, qualifying it as a binding for use for on-piste touring. Its wide drill hole pattern and a positive-lock binding-boot connection with its new bayonet closure means improved binding power transfer, effectively enlarging your range of use.
It remains lightweight thanks to its construction, the use of premium materials. and its slim design. The heel mechanism has a minimalistic shape, but retains all of the normal ease of adjustment. The Speed Step heel lifter functions as usual and can be employed or deactivated on the fly with your pole. The Excenter for locking the toe piece has been lengthened to further increase the simplicity of adjusting and locking the binding.
The automatic release heel unit can be adjusted to release values from 5-10. More flexibility in adjusting length: The adjustment range for mounted bindings is 5mm in either direction.
As on all DYNAFIT models, the toe piece is equipped with so-called "Ice Breaker Pins," to remove snow and ice from the boot insert when stepping in. These bindings as well as all individual parts are made in Europe.
Lock Type: Manual
Adjustable Length: 5 – 5 (mm +/-)
DIN: 5-10
Product features: Bayonet lock, Optional Ski Brake, Speed Step climbing bar, Ice Breaker Pins , Fixed front release, Steel Components
Materials: Stainless steel, Chromoly, Forged Aluminium, High Tech Syntetic
Made in Europe.