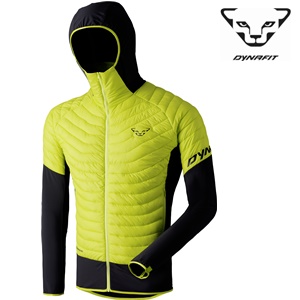 Nicely packed along for those times when it turns not so nice. At 382 grams (13.5 ounces), the lightweight Hybrid Primaloft® jacket makes big plans a little more comfortable. It offers protection from cold and wind, keeps up when the pace gets speedy, without ever binding or slipping.
The athletic TLT Hybrid Primaloft® hooded jacket has 100 grams of fine fill. The outer layer keeps the material water and wind resistant as well as abrasion resistant. Still, for designers, this style wasn't only about warmth and protection for ski touring. Rather, they wanted to ensure total freedom of movement for athletic ascents. Thus, the warmth from the Primaloft® Luxe fill is combined with stretch inserts precisely where movement demands it: The stretch Dyna-Shell fabric has been placed at the underarms, hips and back. In addition, hood is made from the same breathable nylon stretch fabric. Where athletes tend to sweat more, in particular underneath the pack, good ventilation has been guaranteed. At the hips and low back, fabric inserts have been extended slightly to add additional comfort. Even with a headwind, you stay comfy with the longer-cut back.
The Primaloft® Luxe fibers add a notable feature to the jacket: This loose fill is one of the most premium insulations on the market.
It offers the performance of down and has high insulative power. When it is wet, the man-made fiber is truly in its element and, compared to down, shows its real strength in retaining its performance. The fill is not bulky, and it therefore works well with the layering principle as well as when the demand is for uncomplicated, quick use for training.
The jacket features two large side zip pockets and an inside chest pocket. Reflective stripes round out its suitability for on-piste racers, as an evening companion and as an all-year training partner.