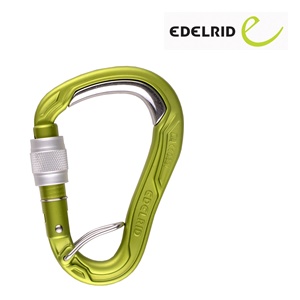 The HMS Bulletproof FG is an innovative and robust HMS carabiner with a steel insert at the apex and an internal spring bar to prevent cross loading. It com-bines the advantages of both a steel carabiner and an aluminium carabiner. The steel insert at the carabiner apex protects this section which is particularly sub-jected to abrasion, the rest of the carabiner is made from particularly lightweight aluminium. The HMS Bulletproof FG is available as a screwgate or triple lock version.
This is an HMS carabiner that simultaneously solves a number of problems. Its intelli-gent combination of aluminium and steel gives it a very comfortable weight and very high strength. The hard steel insert at the rope basket keeps edge wear to an absolute minimum.
For all our climbing products where there is direct contact with a rope, we decided to reinforce the corresponding areas with steel. Steel prevents early wear from rope fric-tion and prolongs the service life of the climbing equipment, as well as the service life of the rope.
We are proud to be the first manufacturer to introduce a sustainable closed-loop pro-cess for climbing equipment, where rope and hardware interact without causing long-term wear on each other.
Product details: HMS Bulletproof Screw FG
• Weight: 84 g
• Strength: 23 / 8 / 7 kN
• Certification: EN 12275
• Colour: oasis.