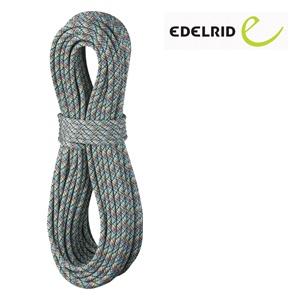 With the Swift Eco Dry 8.9 mm, EDELRID is setting new standards in innovative and sustainable ropemaking. The Swift Eco Dry is the world's first ever PFC-free rope that meets the UIAA Water Repellent standard. And with a diameter of only 8.9 mm, it is one of the thinnest single ropes on the market.
It is the perfect choice for avid sport climbers looking for minimal weight and diameter, as well as mountain guides and mountaineers looking for a rope suitable for all climbing disciplines on rock and ice. Thanks to the Eco Dry treatment, it absorbs virtually no water (Water absorption < 2 %, UIAA Dry Standard).
In addition, it is bluesign® certified and offers a similar performance to the ropes of our Pro Dry line in terms of durability, abrasion resistance and water and dirt resistance. Discover the new generation of EDELRID ropes – the Swift Eco Dry 8.9 mm.
Naturally, our new Swift Eco Dry is coiled using our new 3D Lap Coiling process. This means that it is no longer necessary to unroll a new rope before it is used for the first time. Together with the user-friendly packaging design, it is now easy to open up a new rope and start using it immediately, without any annoying twists and kinks. Simply open it up, tie in and climb.
Product details:
• 100% PFC-free
• Meets the UIAA water-repellent standard
• Single, half and twin rope
• Diameter: 8.9 mm
• Number of falls: 5
• Weight: 52 g/m.