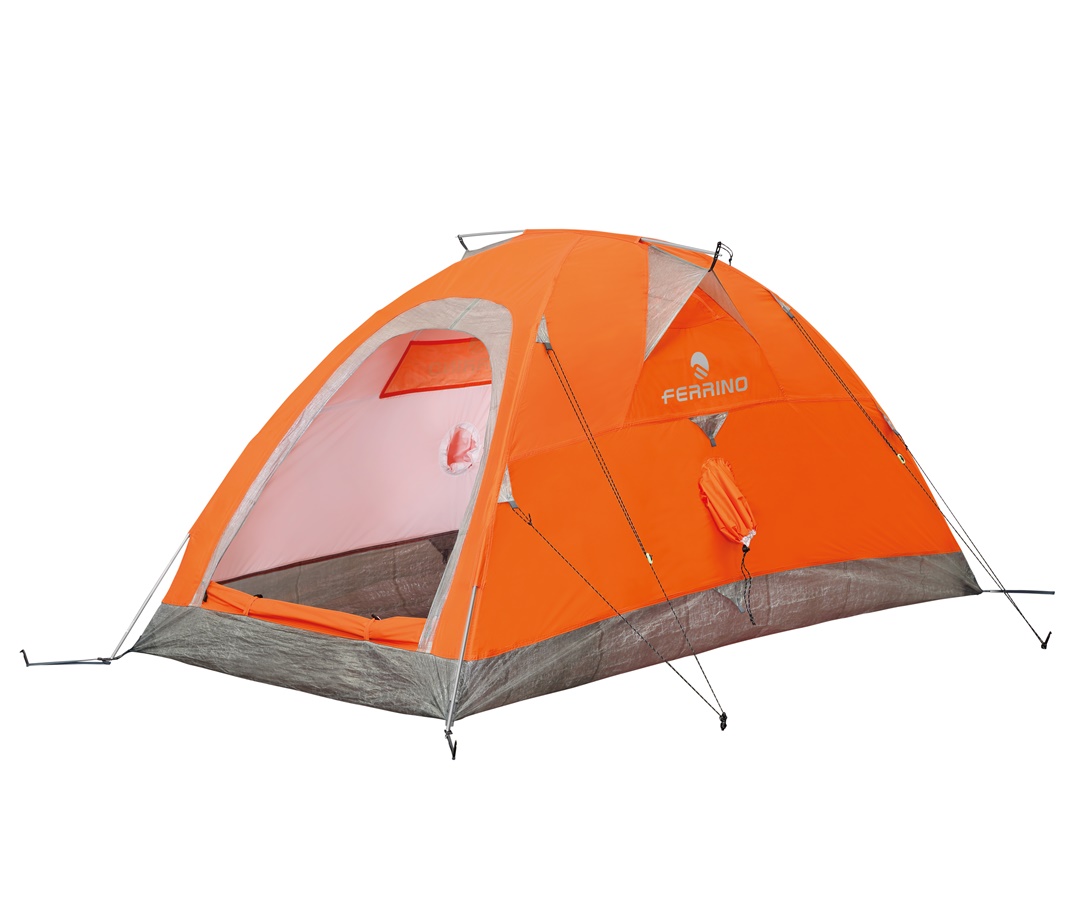 New in the Winter 2022 collection, Blizzard 2 is a tent from the Ferrino High Lab line. This ultralight, single-sheet tent has been designed for 2 people. Designed for mountaineering activities or expeditions, it is suitable for use at high altitudes or in very cold climates.
Thanks to the new system of internal poles the assembly is quick and safe even in extreme weather conditions, without the risk of losing elements of the tent or wetting the inside. With a minimum weight of 1.5 kg, it is equipped with poles in tempered aluminium alloy 7001 T6 that are very light, flexible but at the same time strong, in different colours to facilitate the set up. The seams are taped and the corners of the floor are reinforced. If necessary, you can combine this tent with a VESTIBULE that adapts perfectly to the shape of the tent. It is an additional accessory made of Dyneema® Fabric 26 g/m2 20000 mm waterproof, which at only 580 g can be very useful to have more room with extra space for storing equipment or cooking. New accessory compatible with the Blizzard 2 is a FOOTPRINT measuring 216 x 106 cm useful to increase the protection of the floor when you have to stop on snow or uneven ground.
CLICK HERE TO READ THE TECHNICAL DETAILS
Weight:: MIN 1,5 kg | MAX 1,65 kg
Size in the bag: 12×36 cm
Structure: Dome
Materials: Floor in Dyneema® Fabric 43 g/m2 – 20,000 mm waterproof rating | Tent with inserts in Dyneema® Fabric 26 g/m2 – 20,000 mm. waterproof rating. |
Reinforcements in 40D Polyamide Ripstop with Texit® Membrane 10000 mm and TeflonTM Shield+ finishing material to form a barrier around each single fibre. Liquid splashes will simply form beads and roll off, while all residues can be removed by brushing or wiping with a clean cloth. Excellent water- and oil-repellency. | Taped seams to guarantee total waterproofing | Three-layer construction to reinforce the floor corners
Poles: Poles in 7001 T6 tempered aluminium alloy: light, strong and elastic | 3 shock-corded aluminium poles | Internal pole system | "V shape" aluminium pegs
Entrance and ventilation: Front entrance with ventilation window and mosquito net. | Ventilation sleeves and outlets that close from the inside Storage: Inside pockets | Removable tent organiser on internal ridge.
Accessories: Tape loops on floor corners to secure the tent, if set up on snow, using ice axes, skis or other moorings. | Multipoint reflective guy line system to prevent the breakage or deformation of poles in strong winds. | Fluorescent guy line pulls. | 100% waterproof stuff sack in Dyneema® fabric with "roll-up" top clo- sure and taped seams. | Repair kit included | Instruction video activated with QR code.