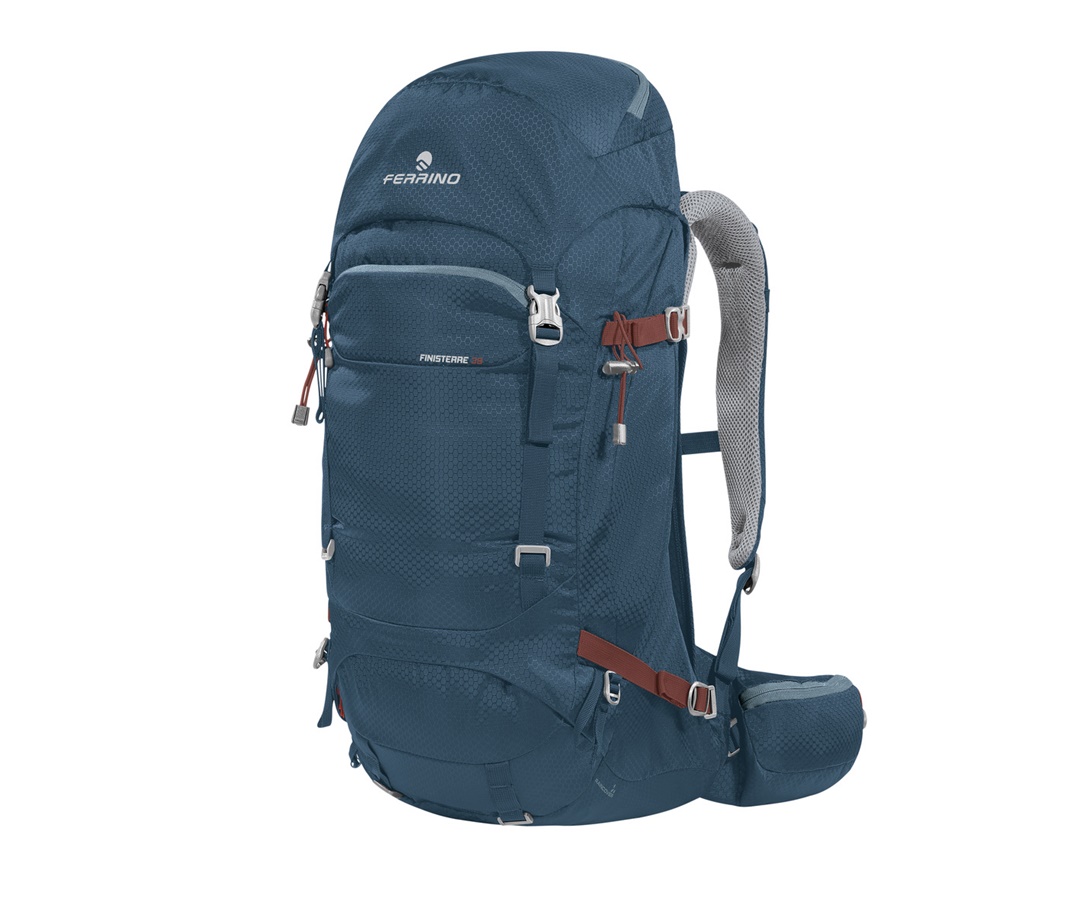 FINISTERRE is the Ferrino symbol trekking backpack. It has been completely renovated in its materials and gears in order to offer hikers an even more satisfying travel experience.
For their linear profile, their versatility and for being very rich in features, Finisterre line is the perfect adventure companion. For this reason it's among the most chosen by adventurers around the globe. It's perfect for multi-days excursions, such as for example the Grand Italian Trail CAI, or "Camino de Santiago", or even "Via Francigena", but it's also suitable for high mountain trails. With a view to responsible and sustainable development, the fabric used for this tent, both the external and internal, is realized with 100% recycled raw materials post consumer and certified by GRS. Global Recycled Standard is an international certification promoted by Textile Exchange to encourage the use of recycled textile materials.
The multiple pockets and the bottom partition provide a frontal access that facilitates a better interior organization, making it easier to find the materials at any moment. The back system has been made lighter. Despite that it maintains an exceptional breathability and comfort typical of this model. All the Ferrino top backpacks collection, such as Finisterre, are provided by integrated RECCO reflector. This important feature proves the special attention given by Ferrino to safety in mountains.
TECHNICAL DETAILS:
Capacity: 3 8 L
Weight: 1 ,38 Kg
Dimensions: 6 3x28x22 cm
Fabrics: 100% recycled 420D Honeycomb
Back: Back with "Dry Net System": a carrier frame in flexible steel, not only guarantees perfect load distribution but also serves to tension the mesh that separates the backpack from the wearer's back for excellent breathability
Pockets: In top lid | Security | Front | Side bellows with zip | On waist belt | Inside pocket in back
Accessories: Bottom partition | 2 pole/ice axe holders | Snap-on pole holder | Side compression straps | Front gear loops (with additional straps) | Backpack cover included | Compatible with the H2 Bag hydration control system.