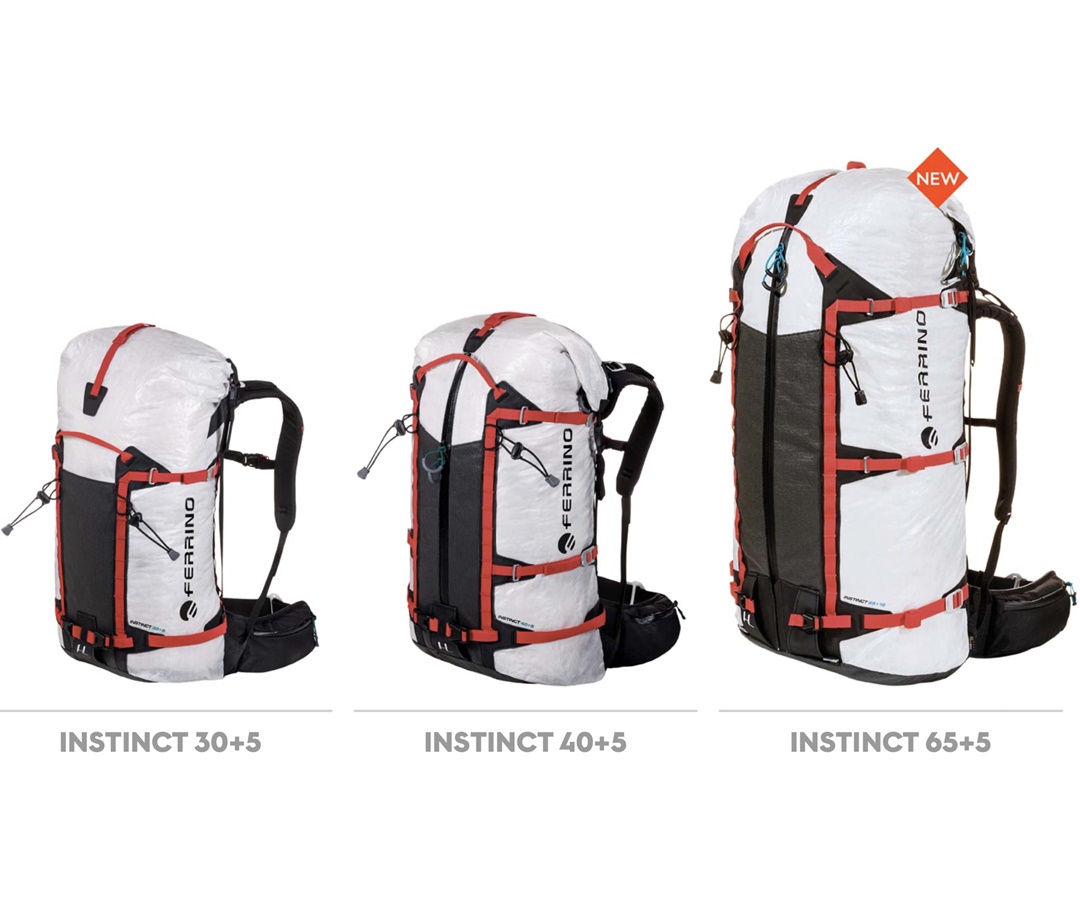 Resistance and lightness, a masterpiece of performance and solidness. New entry in the ultralight mountaineering backpacks, INSTINCT 65+15 it's the perfect companion for multiple days expeditions.
Like every backpack of its range, INSTINCT 65+15 is characterized by essential lines. It's perfect for all types of mountaineering. It's a genuine all-around mountain backpack, designed to adapt to any activity. Its modularity allows you to modify it according to different needs. It offers the possibility to carry extra gears by increasing its upper compartment (+15 lt) and to reduce its weight by removing the hip belt, the duralumin bar in the back and the additional straps.
This backpack is realized in Dyneema® Composite Fabric, a double layer fabric very resistant to traction and laceration, which in combination with DCF and polyester 50D fabric creates an incomparable mix between resistance and light weight. Inarrivable performances thanks to SuperFabric® reinforcements in the spots most subjected to abrasion and use. This is a real masterpiece of performances and solidness. A frontal zip allows an easy and fast access to the gear inside the backpack.
The back system is supported by a polyethylene panel, rigid inside and with a removable Duralumin® plank, for a better load distribution and transport stability. Being the hip belt removable, it's easy to use with the harness too. The "Hollow back system" it's super breathable thanks to the combination of preformed pads with ventilation canalas and mesh fabric in order to keep your back dry.
A frontal and side daisy chain has been thought for additional straps insertion and it allows a perfect organization of external gears. The upper zip system "Roll Up" is 100% waterproof.
Also available in 30+5 and 40+5 liters versions with some different characteristics.
TECHNICAL DETAILS:
Capacity: 65+15litres
Weight: MIN1,10g/MAX1,64kg
Dimensions: 76x35x31cm
Fabrics: Dyneema® CompositeFabrics® |  Double DyamondCordura® | Reinforcement sand bottom in Super Fabric® | Iceaxe holder in Reinforced Laminated Fabric
Back:

"Hollowbacksystem": ultra-breathable back and waist belt, thanks to a combination of pre-formed padding with vent channels and super-breathable mesh fabric | Back supported by apolyethylene panel with removable internal stiffener and bar in duraluminium, for improved load distribution and carry ingstability.

Pockets: On waist belt | Backpocket | Pocket for shovel and for hydration control system inside
Accessories:

Front access to them a incompartment of the backpack | 100% water proof "Roll up" top closure | Two ice axeholders |Side ski holder | Probe / shovel holder inside | Side compression straps | Top ropeholder strap | Additional removable gear loops on the bottom | Removable waistbelt | Chest strap with integrated whistle | Gear loops on waist belt and inside back | Compatible with H2 Bag hydration control system | Front and side Daisy Chainfor extra gear and optimum organisation of gear on the outside | Super Fabric® protect iveinsert in the front | SOS instructions | Compatible with Helmet holder.