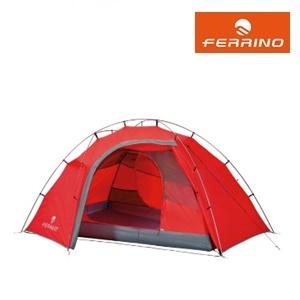 Equipped with features similar to the classic Lightent, the brand new FORCE 2 was created to satisfy travellers who need a product that is also suitable for mid- seasons.
Despite its light weight of 2.5 kg, the Force 2 is well insulated and suitable for colder weather conditions.The external poles make it much more resistant to bad weather, making it easier to mount in case of not optimal weather conditions. The innertent fabric and mosquito remains more insulated for a perfect multi-season use.
TECHNICAL DETAILS:
DIMENSIONS: 17x42cm //h110//1,8m3
PERSON: 2
WEIGHT: max/min2,70kg2,50kg (Minimal Weight: fly sheet and poles only)
Costruction: Dome
MATERIAL:
Fly sheet: Polyester Ripstop 70 D, 85g/m2, polyurethanecoating, waterproof to 3000 mm.,water repellent
Inner: Mosquito net and waterproof and breathable 70D.
Floor: Polyester Ripstop  70 D, 95g/m2 polyester, coated with polyurethane, waterproof to 8,000mm, waterrepellent POLES: 3 poles in shock-corded duraluminium in different colours for easier setup. Two vestibules • Door with mosquito net exterior that opens out fully and folds up into a special pocket.
STORAGE: Internal storage pocket.