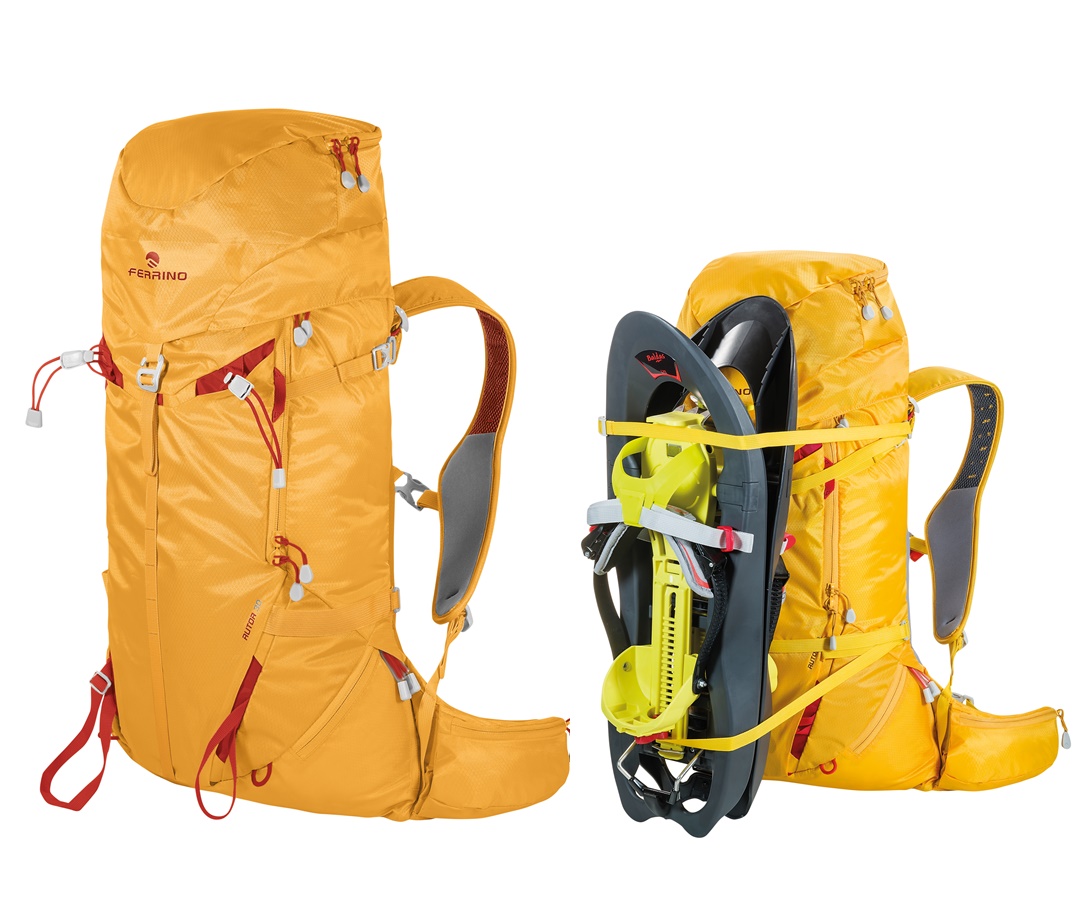 Fast and light for all the mountaineer activities
Designed for ski mountaineering and mountaineering, Rutor 30 it's perfect for "fast and lights" expeditions. A very operational backpack with specific pockets for each accessory that make i t easier to access and transport mountaineering equipment.
Frontally i t's provided with a pocket designed to put the self-rescue material for avalanches, such as shovel and probe, while i n the l ower part there i s a compartment for crampons or rope holder which i s easy to access thanks to the side opening with zip. And there's more: the hood i s completely removable so you can quickly transform the backpack and make i t even l ighter (only 650 g) and l ess bulky, while the back i s made of thermoformed material to adhere perfectly to the body and thus guarantee an invaluable comfort and fit.
There also are some ribbons and buttonholes for skis, i ce axes and helmet holders that make the Rutor a perfect companion for the mountaineering activity, both i n summer and i n winter, perfect for any condition and adventure.
TECHNICAL DETAILS:
Capacity: 30 liters
Weight: MIN 650 g (Senza nastri addizionali e senza fascia a vita) / MAX 780 g
Dimensions: 60x33x24 cm
Fabric: Diamond HD
Back: Thermoformed back panel to guarantee perfect t and adherence to the wearer's back.
Ultra-breathable shoulder straps and waist belt with a combination of preformed padding with vent channels.
Pockets: Front pocket for shovel and probe | Bottom compartment for crampons and rope | Top l id | Back | On waist belt | In mesh on shoulder straps
Accessories: Extendible and removable top lid | Main body closure with zipper | Side and front ski holders | Two i ce axe holders | Chest strap | Whistle i ntegrated i nto the shoulder strap | Side compression straps | Additional removable gear l oops on the front | Gear l oop on waist belt | Collapsible l oops for helmet and ice axe | Loops on shoulder straps to secure pockets or ask holders ( ask not i ncluded) | Daisy chain on front | Compatible with the H2 bag hydration control system | SOS instructions | Compatible with "Helmet Holder".