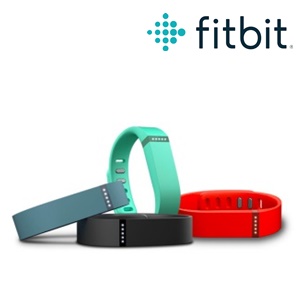 Fitbit Flex is stylish, seamless and, of course, flexible. As the most advanced wireless activity wristband on the market, Flex offers state of the art technology, Fitbit's proven accuracy, and durability – all in a slim wristband. During the day, Flex tracks your steps, distance, calories burned, and active minutes. Just check out its LED lights to see how your day is stacking up against your goal. Come nightfall, it measures your sleep cycle to help you see how to sleep better; and it can even wake you in the morning without waking your partner. The flexibility and mobility of Flex calls for top of the line technology. Flex is the first and only wireless wristband with Bluetooth 4.0 – so syncing activity and sleep data can happen automatically anywhere, anytime. Powered by your stats, you can set fitness goals and track progress. Stay motivated by earning badges or connecting with friends for support or friendly competitions. Log food, workouts and more. Bring greater fitness into your life—seamlessly, socially, 24 hours a day.
Features
• Know your stats: Tracks steps, distance, calories burned, and active minutes, a new stat from Fitbit. The Center for Disease Control recommends achieving at least 150 minutes of moderate-intensity aerobic activity each week. Flex will encourage you to meet—and exceed that goal.
• Getting good ZZZs: Tracks quality of sleep (# of hours, how many times you wake up, sleep efficiency index).
• First and only wristband to: Sync to select mobile devices via Bluetooth 4.0. It also still syncs wirelessly and automatically to your computer.
• Multiplatform: Syncs to select Apple and Android devices. With select NFC-enabled Android devices, you can also now tap your device to automatically launch the Fitbit app.
• With you all the time: Comfortable enough to wear all day. Water-resistant. Even wear it in the shower.
• Match your mood or personality: Flexible, interchangeable tracker with a variety of colorful wristbands (Black, Slate, Teal, Tangerine, Navy) that allow you to personalize your Flex. Flex trackers are sold with Black or Slate bands, and users can purchase accessory packs (Teal, Tangerine, Navy) for $29.95 for all three or $14.95 for one color.
• All-New Dashboard: iPhone and Android App and Online tools—shows activity charts, leaderboards and more. Set goals, view progress and earn badges.
• Social motivation: Connect with friends and family for support or friendly competition.
• Even more health and fitness tools: Log food, weight and more on Fitbit's website or apps, including Endomondo, LoseIt, MapMyFitness, MyFitnessPal and Sparkpeople.