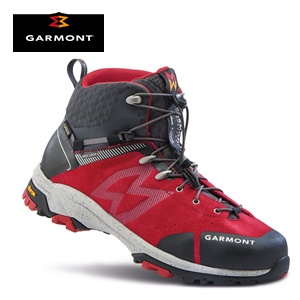 The new G-Trail GTX® by Garmont® is a versatile 4-season boot, capable of ensuring maximum comfort and supportiveness without surrendering lightness. This boot is ideal for fully-loaded hikers on day trips or for mountain lovers on light multi-day hikes.
G-Trail GTX presents a 1.8 mm suede leather upper, with a quick lacing system to allow fast fit adjustment and guarantee greater ease during the activity. The boot features a GORE-TEX® Extended Comfort lining, specifically designed for either outdoor and indoor use in moderate and warm conditions and for high-level activities, ensuring great climate comfort and durable waterproof performance at the same time.
Breathability is enhanced by the OrthoLite® Hybrid™ X35 footbed, taking instant comfort, moisture management and long-term cushioning to the next level. What makes this footbed further remarkable is its eco-friendly focus, combining great technical qualities with a "green" soul. In fact, thanks to the patented Hybrid® technology, 5% of recycled rubber and 15% of production waste foam are used in the construction, for a total of 20% recovery material, making it a great match between top technology and sustainability. The OrthoLite footbed is paired with an EVA midsole for even greater comfort.
The core of G-Trail GTX also features some of Garmont's DNA technologies. The er-Go last, with its rounded and smooth contours, is follows more accurately the natural shape of the foot, thus ensuring an ergonomic fit and greater overall comfort, while Heel Lock fixes the heel on the back part of the boot, limiting inside movements and preventing blisters.
Completed by a Vibram® Multiland outsole, offering a with a large contact area at the toe for a greater grip performance in the front part of the boot and presenting multitraction lugs for a 360° traction on every ground, Garmont's G-Trail GTX is available also in a women's version.
G-TRAIL GTX®
Upper: 1.8 mm suede leather
Lining: Gore-Tex® Extended Comfort
Footbed: OrthoLite® Hybrid™ X35
Weight: 530 g (1/2 pair size 8UK) / WMS (1/2 pair size 5UK) 430 g
Size Range: 6 – 13 UK (including half sizes) / WMS 3 – 8,5 UK including half sizes
Fit: Comfort
Colors: taupe/dark yellow, red/grey, blue/orange / WMS grey/pink, grey/red.