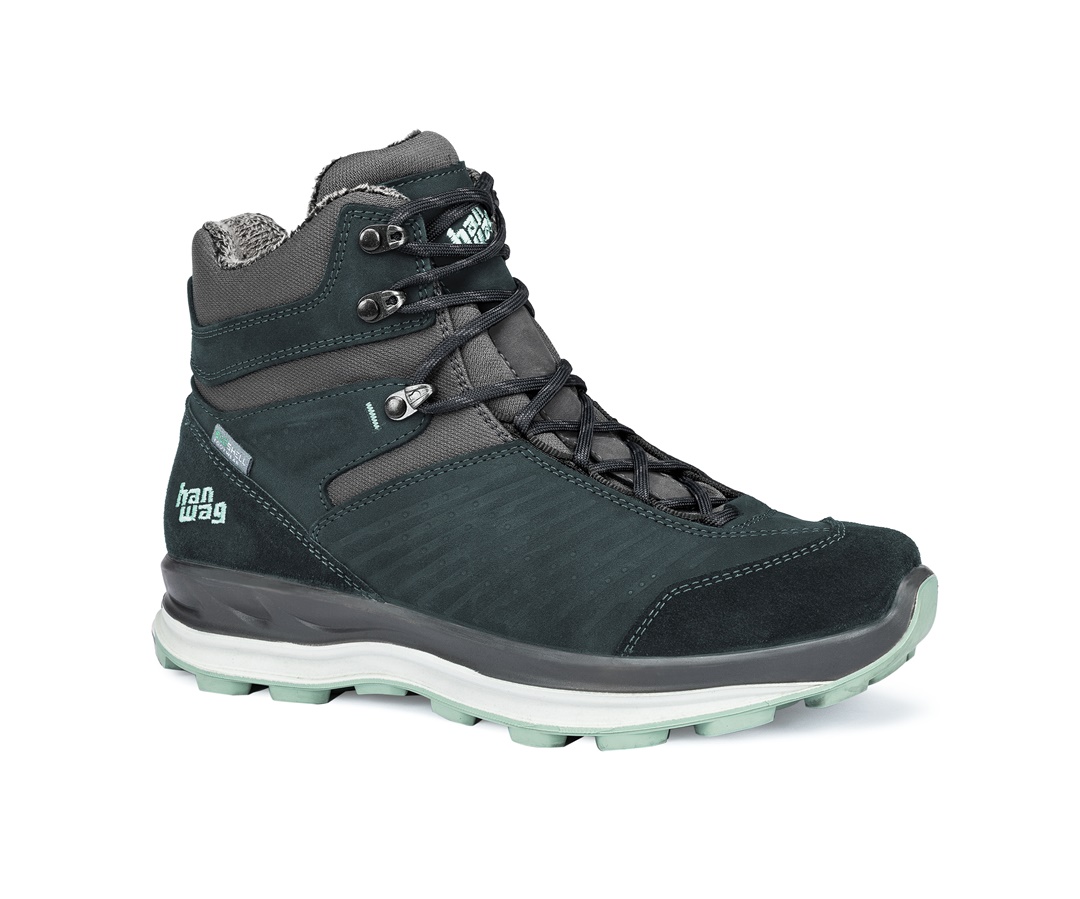 Multifunctional and resource efficient – the Bluestrait Mid ES is a high cut winter boot for outdoor activities in the snow and ice. With a waterproof and PFC-free HANWAG EcoShell membrane, insulating merino wool footbed and robust Perwanger leather upper.
Nubuck, Suede, Fabric
Lining: EcoShell
Size (man) 6,5 – 13 // weight/pair: , ca. 1130 g (UK 8)
Size (woman) 3,5 – 9 // weight/pair: . ca. 920 g (UK 5)
FEATURES
• Hydrophilic, PFC-free 'EcoShell' PU membrane with a robust 3-layer construction
• Cushioning and stabilising midsole with unique 3D inner structure
• `Fiberbrake´ outsole with fibreglass grip inserts, special winter-grade rubber blend and agressive tread pattern
• Odour-inhibiting, insulating and breathable footbed in merino wool (mulesing-free) and recycled PU foam
• High cuff to prevent snow ingress.

WATERPROOF AND SUSTAINABLE – THE HANWAG PFC-FREE ECOSHELL MEMBRANE
Membrana – the Latin word meaning a very thin layer of tissue that covers or separates connecting parts of the body. While a cell membrane protects the inside of a cell and regulates fluids, a textile footwear membrane such as EcoShell provides a waterproof barrier, breathability and natural temperature regulation for the foot. In other words, on the one hand a membrane allows fluids or gases to pass through it to the outside, and on the other hand, it also prevents moisture from penetrating inwards from the outside. But how?

FUNCTIONALITY THROUGH PHYSICS
In the case of the HANWAG EcoShell PU membrane, this process occurs in a membrane that has no pores, and without the use of environmentally harmful fluorocarbons. Based on a physicochemical process, the hydrophilic (water loving) element of the membrane absorbs body moisture, and wicks it to the outside where it can evaporate. Moisture vapour molecules are transported away along hydrophilic molecular chains. The compact molecular structure within the EcoShell membrane simultaneously swells due to moisture from the outside, yet provides enough space to wick away body moisture from the inside in gaseous form, while leaving no space for further liquid to penetrate from the outside.

LAYERING PRINCIPLE: THREE-LAYER LAMINATE
To prevent the fragile membrane from becoming damaged or losing functionality, it is bonded to a carrier fabric in what's known as a bonded laminate. In the case of the EcoShell PU membrane, this is a three-layer laminate made up of a layer of soft, insulating lining material, the membrane itself, and a protective layer of durable polyamide. fabric layer, and finally the upper. The entire upper is then given an additional PFC-free waterproof finish so that water beads off the surface.