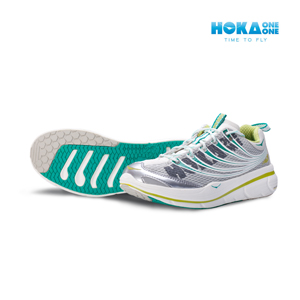 Perfect for short distances (half-marathones) and for a regular / intensive training. Light, high-performance, optimized for trail running, it offers a strong upper made of PU, Mesh and TPU combined with a breathable polyester lining.
Thanks to the Hoka research and intensive tests, the HiP EVA insole is oversized (2,2 X volume), in order to ensure superior shock absorption and unique comfort. The shoe structure emphasizes the trail action, ensuring a fluid transition from the heel to the forefoot without waste of energy.
Outsole: Hoka Grip with 1,5 mm lugs; footbed: Ortholite inner sole 2mm; standard lacing system. Available in Woman and Man versions. Weight: 270g (size 8 UK).