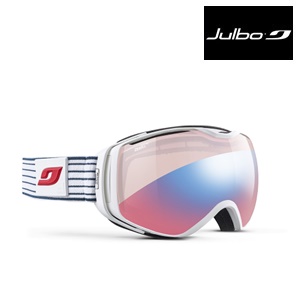 This goggle is packed full of technical features. With its Minimalist Frame and maximum field of vision, Universe will completely free the rider's angle of vision and capabilities. Designed for average
to large faces, it offers top quality with an extremely flexible and comfortable facial contact area and in-frame ventilation. And because every detail counts, the finish is more than up to the job, resulting
in a frame decorated with metal and multilayer embroidery. In other words, great art.
Lense : Zebra Light Red – Frame : Sailor.
TECHNO
Minimalist Frame
Extra-wide fi eld of vision from every angle. The skier's view is completely clear both laterally and vertically.
Air Flow
Integrated air fl ow in lenses, preventing fogging.
Ventilated lens
Additional ventilation via the lens to prevent any fogging.
Anatomic frame
Cuts on the frame for more flexibility.
Dual Soft Foam
Two layers of foam for optimum comfort and shock absorption.
Anti-fog coating
Extended Outrigger
15 mm extension on each side of the goggles to adapt to all helmets & for homogeneous hold.
Full silicone strap
Dual silicone strap to facilitate goggle hold all the way round the helmet
Symetrical adjustement
Two loops either side of the strap for symmetrical
adjustment in the blink of an eye.
REACTIV photochromic lens
Double spherical lens.