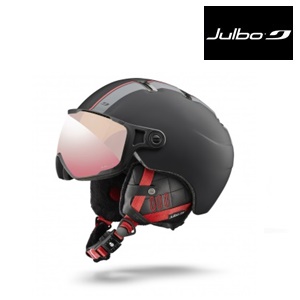 SPHERE / THE FIRST HELMET WITH A ZEBRA VISOR!

With its look and finish, the new Sphere helmet won't go unnoticed! Put this helmet on and you'll be bowled over by the incredible lightness of its in-mold construction. You'll also love the zebra photochromic hinged visor, reinforced with antifog treatment, guaranteeing perfect vision in all light conditions. Refined in every detail, thanks to its user-friendly magnetic buckle, Sphere has everything it takes to win over the most demanding skiers, whether on the performance or the style fronts!
TECHNICAL FEATURE:
Air flow: All our helmets are ventilated with strategically placed vents & specific mesh that evacuates perspiration.
Spherical lens
Ventilated lens: Additional ventilation via the lens to prevent any fogging.
Dual Soft Foam: Two layers of foam for optimum comfort and shock absorption.
Anti-fog coating
In-mold shell: For greater lightness / EPS injection-molded shell with a polycarbonate outer layer (thickness: 0,3mm) / The EPS shell absorbs and distributes impact while the polycarbonate cover protects the EPS and provides scratch resistance / Standard: EN1077 / Weight: 300g to 420g / Advantage: ultra-light construction.
Adjustable Fit
Half Shell
Rollneck
Magnetic Buckle.