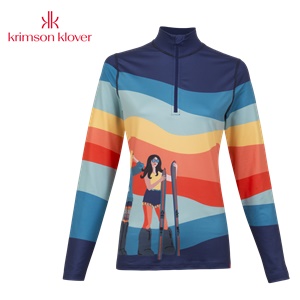 Krimson Klover has expanded its already popular Active Essentials seamless collection for Fall 2020. Designed by local artists, these pieces combine seamless technology with gorgeous knit motifs for luxurious, high performance pieces that are truly one of a kind.
Made of high quality poly/spandex with ultra-soft brushed interior, the piece is designed to be worn year-round as a first layer. The base layer offers fantastic temperature regulation and feature 4-way stretch for movement, flat seam construction for durability, chafe prevention, and moisture- wicking to keep you dry and warm.
By demand for 2020, there are added new designs in the custom vintage motifs. The Peace Love Ski set says it all. Retro never looked so good or skied so fast with these throw-back colors of orange, yellow, navy, aqua, and red. The tights can go running or full Ashtanga yoga and be your go to silky warm base-layer for ski wear.