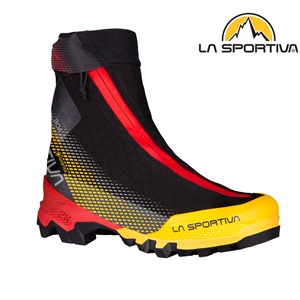 Equilibirum – a state that makes it possible to control the position and movement of the body in space. It stays also for harmonic: the synthesis between opposite and contrary forces. Aequilibrium Series: the perfect balance between comfort and technicality, lightweight and durability for the modern mountaineering.
Aequilibrium Top GTX is the lightweight, high-tech high-performance boot for fast mountaineering on mixed terrain and for use at medium altitude. State of the art technology, it is the perfect synthesis between lightweight, comfort and durability. Exceptional walkability thanks to the innovative construction of the Double Heel™: the very pronounced double rear block geometry increases the braking effect on the descent and allows a smoother rolling, reducing muscle fatigue.
Durability and lightweight coexist in harmony thanks to the new outsole / midsole package with external Rubber Guard™ shell construction and internal foam material for accentuated cushioning and lightweight derived from less use of rubber layers. The shape is Ergonomic: enveloping and precise with TPU shells integrated in the toe and heel to reinforce the uppers. The 3D Flex System Evo™ directional joint with shaped malleolus and external fold lines allows better control of the support and perfect mobility of the ankle. The external water-repellent elastic Cordura® gaiter allows maximum water repellency while the internal Gore-Tex Performance Comfort membrane allows sweat to escape but keeps water out. The lacing integrates the precise and fast BOA™ Fit System.
The midsole is semi-cramponable for use with crampons in case of ice or snow, sole with VIbram® tread with Impact Brake System lugs for greater adaptability to hard rock surfaces. Mountaineering in perfect harmony