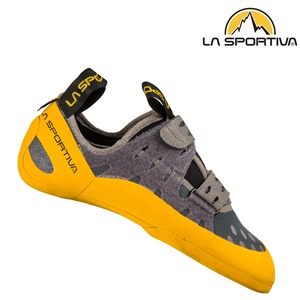 Geckogym rental is the climbing shoe designed for use in indoor gyms. It is washable thanks to the WashTex 3 layer uppers and special adhesives. It uses the new no-marking FriXion White sole and guarantees high levels of performance. The external rear label allows for quick size recognition.
The comfortable fit makes it ideal for those starting to climb, for use during competitions and for those who prefer a comfortable shoe. The Velcro lacing system makes it quick and easy to pull on while the breathable material allows the shoe to be worn for long training sessions. Let's start to climb!
Tech info – MAN
UPPERS: 3 layer WashTex external, washable fabric + microfibre + breathable internal fabric
LINING: breathable fabric
MIDSOLE: LoSpoFlex 1,8 mm complete
SOLE Frixion White. 5 mm.
SIZE: 33 – 48 including half sizes
WEIGHT: 470g pair.
Tech info – WOMAN
SOLE: Frixion White 5 mm.
SIZE: 33 – 43 including half sizes
WEIGHT: 410g pair.
Plus
+ Uppers made from washable and breathable fabric
+ La Sportiva Frixion White no-marking, long lasting, abrasion resistant sole and rand.
+ Half sole for ease of re-soling.
Focus:
External rear label with size indications to help easy shelf recognition
Quick, velcro strap lacing system.
Easy-in tongue for maximum comfort.