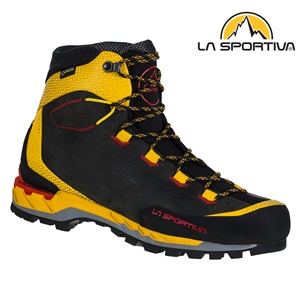 Trango Tech Leather GTX is a breathable, waterproof leather boot designed for alpine hiking: particularly lightweight, comfortable and durable thanks to the Nubuck uppers. Perfect for technical approach routes and for work purposes, it is used by mountain rescue teams and alpine guides.
The uppers with a clean and modern design, are obtained from a single piece of leather and with seams reduced to a minimum to increase the overall waterproofing. It is a product with high durability thanks to the use of high quality leather and protective microfiber on the uppers. The shock absorbing polyurethane, low density midsole with protective PU-Skin reduces the impact with the ground and promotes prolonged use of the product while the shock absorbing rubber protection at the toe and heel prevent impacts with rocks and roots.
Like all products in the La Sportive Trango series, the boot adopts the 3D-Flex System that promotes mobility and dynamic support. The tongue integrated in the uppers is made of soft, stretch fabric for maximum comfort, enhanced by the ergonomic shape and snug fit. The La Sportiva Cube sole by Vibram with a lower volume, allows to further reduced the weight for a light and modern backpacking boot.