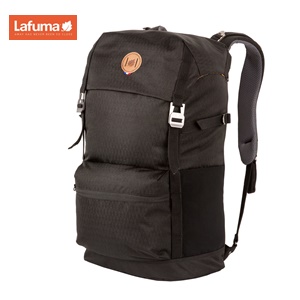 The Original Ruck makes no compromise between eco-friendliness, looks and function.
It's eco-designed, very strong, and therefore durable too.
Design wise, with its assertive ripstop pattern (a special reinforcement technique to further increase strength) the fabric clearly states its rugged character and outdoor roots. The main closure's metal buckles channel the aesthetic of Lafuma's historic 1930 backpack, while also being strongly up-to-date.
Function wise, the Original Ruck is designed to be convenient both day-to-day and when you're out on walks: it has a laptop-compartment opening, a zip under the flap to secure your stuff, a side fastener to hold a small tripod, and a foampadded base to protect what's inside. Robust yet comfortable, it will be part of all your adventures, in town and country.
The Original Ruck boasts the Low Impact™ label. This exacting standard identifies products that exemplify our environmental programme (durable quality products, produced in audited factories, with low-impact materials, compliant with working-conditions regulations and environmental standards, transported by ship or train, etc.) – from the eco-design stage through to you. For consumers seeking an eco-friendly product, this label is a guarantee.
The Original Ruck deserves this label: its main material is 100% recycled (polyester chiefly recycled from plastic bottles) and is 100% PFC Free.
PFCs are chemical compounds widely used in outdoor products. They're very effective for waterproofing, but harm health and the environment. In line with our eco-aware mindset, all the materials used in the Original Ruck are PFC Free, and all the trims (zips, eyelets, cords, etc.) are in metal for optimal durability.
Available in our own shops, our stockists' outlets, and on Lafuma.com
Dark, blue or green color.
Recommended retail price Original Ruck 15 L: 69 €
Recommended retail price Original Ruck 25 L: 99 €