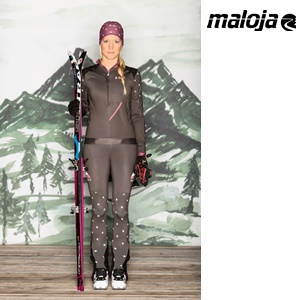 Innovations in Ski Mountaineer Racing – Shirt ArezzoM. and Pant ArezzoM. In close cooperation with the athletes of the German National Ski Mountaineering Team we designed specific functional styles for different applications in Ski Touring, ranging from a racing suit to different combinations for training and recreation.
The race suit is characterized by a slim fit, light material, pocket for skins and a pocket for avalanche transceivers as well as rugged material on the shoulders and the lower leg area. A special feature is the new construction where top (race
jacket) and bottom (race pants) can be connected with a special clip-system. In combination it's a full-on racing suit, but can be used separate from one another.