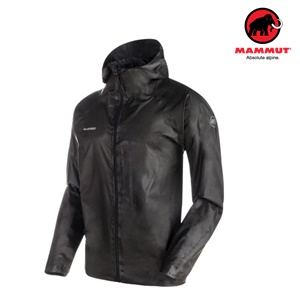 In summer 2017, Mammut is launching a real highlight for any runner.
The Rainspeed Ultralight HS Jacket delivers exactly what its name promises. It is made from the lightest and most breathable GORE-TEX® material on the market. The completely new, innovative GORE-TEX® Active technology consists of just two layers: the membrane is turned outwards and offers a durable water-repellent surface. This means that the material does not require impregnation – a quick shake is sufficient to dry the outer layer of the jacket.
The entire jacket is made from a single piece of fabric. The small number of seams are welded using ultrasound technology and sealed with extremely narrow seam tape. The combination of this technology and the soft backing on the inside of the fabric means that the Rainspeed Ultralight HS Jacket offers a completely new feeling against the skin – whether you are on a short trail through a cool forest, running on a sunny, windy day, or on a long run through showers in the Alps. At under 120 grams, the Rainspeed Ultralight HS Jacket will be one of the lightest GORE-TEX® jackets on the market. But it still maintains essential features: as well as the tight-fitting hood, the Rainspeed Ultralight HS Jacket has a chest pocket and reflective logos for the optimum safety.
Sizes: XS-XL
Weight: < 120 grams
Colors: black
Main material: GORE-TEX® Active 2-layer with Permanent Beading Surface 10906