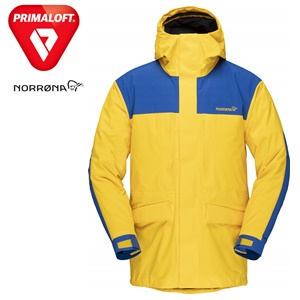 PrimaLoft® Bio™ remains durable through its complete life circle
Made from 100% post-consumer recycled material, PrimaLoft® Bio™ fibers only break down when exposed to specific environments – such as a landfill or the ocean. PrimaLoft has enhanced the fibers to be more attractive to the naturally-occurring microbes found in these environments so that they eat away at the fibers at a faster rate, returning the fabric or insulation to natural elements. Fibers will only biodegrade* when exposed to these naturally-occurring microbes in landfills or bodies of water, thus, the insulation or fabric remains highly durable throughout its usable life cycle in a garment. PrimaLoft® Bio™ products have the same performance, versatility and softness as previous PrimaLoft® products.
Features:

• PRIMALOFT® BIO™ insulation with 100% Recycled Content for lightweight warmth with minimal environmental impact
• 3-1 highly functional four-season product that can be customizable for any weather
• A callback to the classic, vintage aesthetic of the iconic trollveggen jacket from the '80s, revamped with modern updates and highly technical features
• Durable 2-layer recycled Gore-Tex™ nylon fabric for weather protection and reinforcement in high-abrasian areas
• Detachable PrimaLoft® Bio™ insulated liner can be worn as a standalone piece
• Insulatd liner has snaps in the neck, sleeves and front for easy removal
• Chest pockets and inner pockets
• Envelope pockets in the front
• Hem tightening system provides additional protection from updr
MSRP: 647,31 euro.