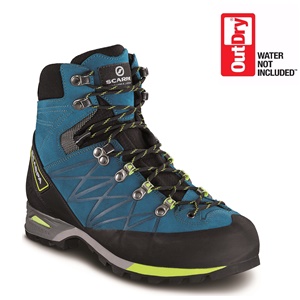 Created for alpine excursions and demanding trekking, Marmolada Pro OD is a comfortable, wrapping, but sturdy shoe. Water-resistant suede upper with up-to-the-toe lacing system and an innovative closure system with steel hooks and polymeric compound that assure homogeneity on the pressure points. The tongue, realised from a unique piece with the Sock-Fit XT by SCARPA® is simply the best in terms of comfort and wrapping of the foot.
The Marmolada sole is the "gem" of the shoe. The intersole made of a supportive PU heel and a low-density EVA insert helps to soften the impacts with terrain while walking. The outsole with pronounced lugs and forefront climbing zone in Vibram® material increases the grip on difficult terrains.
OutDry® Technology:  With OutDry® technology the membrane is laminated directly on the inner side of the Marmolada's upper fabric. That means, water cannot accumulate in the gap between the waterproof lining and the upper: the water stays on the outer surface of the shoe and your feet remain dry. OutDry uniformly seals the upper's inner surface with a thin waterproof barrier. There are no folds, no seams and no seam-sealing tapes. This eliminates potential points of friction with the foot, and consequently decreases the risk of blisters. Then the complete absence of any seam-sealing tape, allows the system to exploit 100% permeability of the waterproof barrier surface, thus increasing overall breathability.
Upper : Suede Plus Idro Perwanger 1,7 – 1,8 mm
Lining: 37.5 by Cocona® + OutDry® lamination
Insole: Active Medium
Sole: Vibram® DRUMLIN
Sizes: 37-48 (with ½ sizes)
Weight: 630 grams (1/2 pair size 42).