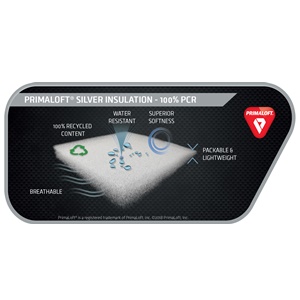 Following much development, using various production processes and tests, the material experts at PrimaLoft have now achieved a breakthrough. The insulation materials and functional textiles specialist presents the results of intensive research, introducing new PrimaLoft® Silver Insulation – 100% PCR and PrimaLoft® Black Insulation – 100% PCR, as well as PrimaLoft® Gold Insulation Luxe™.
Until now the challenge had been to produce a high-performance insulation made entirely from recycled material. The main problem is, the melting points of the collected PET bottles used to create the recycled fibers differ from that of virgin fibers, which makes the production of a stable insulation fiber that meets performance standards very difficult.
PrimaLoft's has risen to the challenge, developing special recycling and production processes resulting in the successful production of extremely high-performance fibers that are finer and softer than cashmere and boast high bulk density and unmatched thermal performance. The insulation has all the renowned properties that have made PrimaLoft the benchmark in performance insulation, such as low weight, high compressibility and water-repellent characteristics. Around nine commercially available PET bottles are necessary to create the insulation layer for one jacket (thickness 40g / m2).
Partners of the first hour in sports and fashion include: 66 North, Armedangels, Isbjörn of Sweden, Odd Molly, Kings of Indigo, Sweet Protection and Vaude.