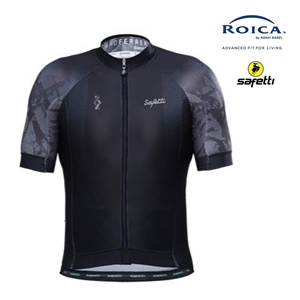 ROICA™ Eco-Smart Family, a world-first range of unique innovative and  responsible made premium stretch yarns, with 2 real sustainable solutions:
A ROICA™ yarn that is GRS (Global  Recycling Standard by TEXTILE  EXCHANGE) version 3 certified yarn with more than 50% pre- consumer recycled content.
ROICA™  Gold Level Material Health Certificate awarded yarn from the Cradle to Cradle Product Innovation Institute – for product ingredients that have been evaluated throughout the supply chain for impacts on human and environmental health, building towards eliminating all toxic and unidentified chemicals for a safe continuous cycle- and Hohenstein Environment Compatibility Certificate, as it smartly breaks down without releasing less harmful substances.
Safetti has used fabric innovations from PENN Textile Solutions, with the unique ROICA™ Eco-Smart family, in a range  of garments designed and manufactured for real cyclists, who value the  garments with a combination of fashion, innovation, high quality and  exclusivity, looking to shine in the peloton. SAFETTI® is also committed to a cleaner planet and brings the company to choose smart  and innovative materials for its production. The fabric by  PENN Textile Solutions has gripping edge thanks  to the elastomer, which also makes it completely hypoallergenic and more performing and  maximizing wearability and comfort, minimizing the use of seams.