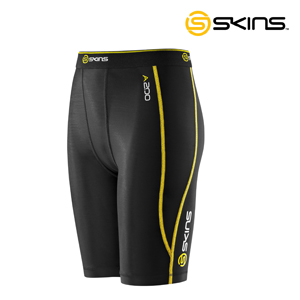 SKINS A200 RANGE – PERFROM BETTER, RECOVER FASTER
For dedicated athletes and casual users alike, SKINS A200 range provides scientifically proven benefits. SKINS get your blood racing, using engineered gradient compression to increase oxygen to muscles for enhanced performance with less pain – before, during and after training.
SKINS A200 garments use a unique BMI (Body Mass Index)/anthropometrical algorithm to take into account the wearer's height, weight and chest size to ensure a good fit; so compression levels are optimised.
A200 garments are designed to wrap and support key muscle groups. This dramatically reduces muscle vibration, resulting in less soft tissue damage and reduced delayed onset muscle soreness (DOMS).
SKINS lightweight 200 Series warp knit fabric features 50+ UV protection (in all non-mesh areas), and moisture wicking, which allows the skin to breathe.
Key distinguishing design features of the A200 range include:
Carefully considered seam placement, to limit friction points and reduce chafing. On the women's products, these also give a more flattering silhouette.
Thinner seams with more stitches per inch – 17 SPI to be exact. This provides additional strength and flexibility and creates a block colour effect which is unmistakably SKINS.
Soft airflow mesh under the arms, to improve ventilation and add extra stretch.
Silicone gripper on the bottom hem of A200 tops, preventing the garment from riding up.
Men's waistbands on lower body garments are made from soft jacquard elastic with bonded tape at the rear for a smooth finish. 3D rubberised logos have been applied to add a bold display of the SKINS brand. Women's waistbands feature an internal draw cord to help keep the tights in place.
Embossed panels on the tops and tights are a textural design feature for a great look!
SKINS A200 men's range:
The A200 men's range is aimed at dedicated athletes and casual users alike. SKINS classic black with yellow stitching is the primary colour. Most items are also available in white and grey marl, ideal for use under team kit. Strategically placed stretch panels specific to the men's range improve freedom of movement, whatever the sport of choice.