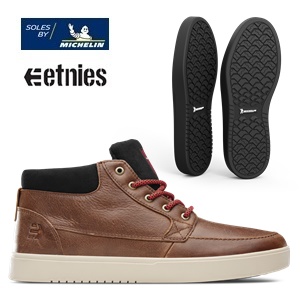 A durable skateboarding shoe, with excellent grip and extremely flexible. The Crestone MTW, equipped with a MICHELIN sole is a real revolution. There upper is in leather, water-repellent and breathable while the winter sole, in rubber. Michelin guarantees perfect grip on ice and greater traction, even on snow, maintaining its flexibility even at very low temperatures. Inspired by the MICHELIN X-ICE tire range, the sole design features a multidirectional lamellar structure which allows perfect adherence in every direction. The grooves have been specially designed to have a progressive contact surface. Greater support is guaranteed by the reinforcement of the bridge. A product that fully meets the performance needs of each skateboarder.

Benefits:
Multidirectional block siping for adherence
Interlocked design provides a constant ground contact
Adaptable and flexibile sole structure.