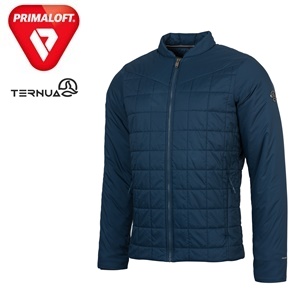 PrimaLoft® Bio™ remains durable through its complete life circle
Made from 100% post-consumer recycled material, PrimaLoft® Bio™ fibers only break down when exposed to specific environments – such as a landfill or the ocean. PrimaLoft has enhanced the fibers to be more attractive to the naturally-occurring microbes found in these environments so that they eat away at the fibers at a faster rate, returning the fabric or insulation to natural elements. Fibers will only biodegrade* when exposed to these naturally-occurring microbes in landfills or bodies of water, thus, the insulation or fabric remains highly durable throughout its usable life cycle in a garment. PrimaLoft® Bio™ products have the same performance, versatility and softness as previous PrimaLoft® products.
Features:
PRIMALOFT® BIO™ Gold biodegradable insulation with 100% Recycled Content for lightweight warmth, breathability and minimal environmental impact
Short, bomber-style jacket combines high-performance technical features with comfort, ease of use and lightness
Wind resistant
PFC-free water-repellent treatment (DWR)
Outer fabric: (pre-consumer) recycled stretch nylon.
Inner fabric: recycled polyester (fabric discarded during production)
BLUESIGN® certified fabrics and filling.
Ideal for use on its own or as an intermediate layer when used with a shell layer.