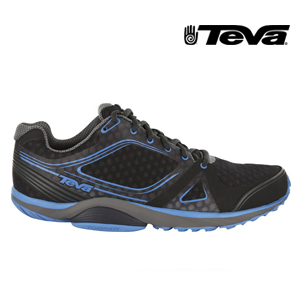 Down the hill, through the mud pit and under the barbed wire. And that's just obstacle #1.
The TevaSphere Speed was inspired by the unpredictable world of Obstacle Races and the athletes that are crazy enough to take them on.
It features our TevaSphere technology that uses a spherical heel and support pods to improve your stride, reduce impact and promote stability on unpredictable terrain – which obstacle races have in spades.
Throw in quick dry materials, a lightweight design and a grippy sole and you'll be able to cross "shoes" off your list of things to worry about for your next race.
T.I.D.E. GRIP
Our TevaSphere outsole uses a spherical heel with two support pods to give you lightweight minimalism without sacrificing stability.
A nylon shank keeps the foot stable and in control.
Our Spider365 rubber is made to grip like crazy in wet environments.
T.I.D.E. HYDRO
Quick dry materials will keep you from getting bogged down.
T.I.D.E. COMFORT
Synthetic and Mesh Upper.
Weight: 9.45 oz