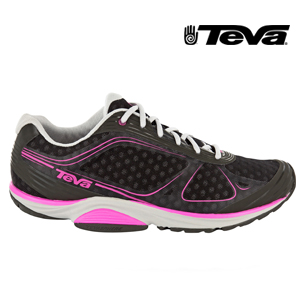 We asked a few of our Obstacle Racer women friends to sound off about previous shoe disasters: Beefy trail runners feel like cement blocks by the end of the race, and minimalist runners ruin your feet on rocks, roots and ruts.
So we designed our women's TevaSphere Trail – not too heavy, not too light – as a perfect all-arounder.
Our TevaSphere technology actually helps you conserve energy by improving your stride and decreasing impact, while its two support pods keep you stable on unpredictable terrain .
T.I.D.E. GRIP
Our TevaSphere outsole uses a spherical heel with two support pods to give you lightweight minimalism without sacrificing stability.
A nylon shank keeps the foot stable and in control.
Our Spider365 rubber is made to grip like crazy in wet environments.
T.I.D.E. HYDRO
Quick dry materials will keep you from getting bogged down.
T.I.D.E. COMFORT
Synthetic and Mesh Upper.
Weight: 8.1 oz