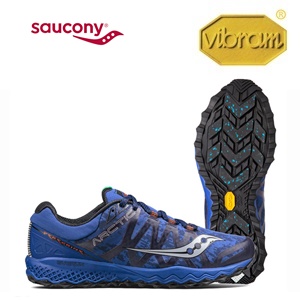 In terms of grip on ice and wet ice in particular, Vibram Arctic Grip is by far the most advanced "all rubber" solution ever produced by the firm with the yellow octagon.
The special technology is able to increase grip performance on wet ice, one of the absolute most critical conditions, without the need to introduce metal inserts such as spikes in the sole, instead using a special combination of Vibram technologies.
The design of the soles features special lugs created with Vibram Arctic Grip technology, arranged along the areas of greatest contact with the ground so as to facilitate traction on wet ice. A functional design combined with the use of the Vibram Icetrek compound help to accentuate the properties of Arctic Grip.
In addition, soles made with Vibram Arctic Grip technology do not cause any damage to supporting surfaces, a real risk in the case of metallic components, which Arctic Grip does not contain.
SAUCONY Peregrine 7 Ice+ Powered by Vibram® Arctic Grip: Saucony presents the new Peregrine 7 Ice+, a trail running shoe perfect for those who love this sport even in winter, thanks to the Vibram Arctic Grip sole. The Vibram sole, developed exclusively for Saucony Peregrine 7 Ice+, offers a design specifically studied for use in trail running: the lugs in the sole area are arranged so as to emphasize the traction, while the lugs in the heel area assist braking. The large contact area the lugs have with the ground, in addition to making the sole very stable, helps to accentuate the Arctic Grip properties. Result: increased grip on wet ice and greater control of movement compared to a traditional rubber sole. The toe cap is reinforced for added protection in the event of contact with stones and rocks. The lugs in the crown are arranged in such a way as to facilitate self-cleaning and stability. The shoes have been constructed with Everun, which optimizes the energy management and cushioning. The TPU exoskeleton increases support and protection to allow safe running even on the toughest terrain.