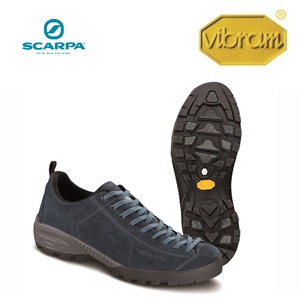 In terms of grip on ice and wet ice in particular, Vibram Arctic Grip is by far the most advanced "all rubber" solution ever produced by the firm with the yellow octagon.
The special technology is able to increase grip performance on wet ice, one of the absolute most critical conditions, without the need to introduce metal inserts such as spikes in the sole, instead using a special combination of Vibram technologies.
The design of the soles features special lugs created with Vibram Arctic Grip technology, arranged along the areas of greatest contact with the ground so as to facilitate traction on wet ice. A functional design combined with the use of the Vibram Icetrek compound help to accentuate the properties of Arctic Grip.
In addition, soles made with Vibram Arctic Grip technology do not cause any damage to supporting surfaces, a real risk in the case of metallic components, which Arctic Grip does not contain.
SCARPA Mojito City GTX Powered by Vibram® Arctic Grip
SCARPA presents a new Mojito model, the City version equipped with Vibram Arctic Grip sole, with excellent grip on icy surfaces. The Vibram sole, developed exclusively for Scarpa, is made with Vibram Arctic Grip technology to offer excellent grip performance on wet ice, both in outdoor environments and urban settings. The design of the sole has been carefully studied to accentuate the Arctic Grip properties. In fact, the Arctic Grip lugs have a large contact area with the ground and are positioned at the tip, sole and as an inner crown on the heel area. Whereas the lugs positioned symmetrically on the outer crown contribute to good stability. The wide channels facilitate self-cleaning. The upper is made from water-resistant suede, for footwear perfect in every situation.