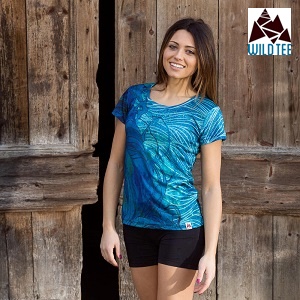 Let yourself be dragged along by the tide, synch with the ocean.
The waves's sound keeps inside our technical Wild Tee fabric guarenteeing you to surf the right wave during every training.
Especially advised for beach runs.
Wild Tee designs and produces technical sporting gear with nature-inspired graphics. Our articles are, proudly, produced in Europe with high-quality technical material. The new graphics are crazier than ever and even more WILD.
The name says it all. Created by enthusiasts, top runners and finishers of the most challenging races of the world and destined for everyone who feels comfortable with running shoes, Wild Tee puts together the top quality materials and productive processes with fresh and out of common designs. Inspired by nature and animals, Wild Tee graphics cover your whole body and just like in a metamorphosis you will be able to unleash your wilder side, pushing yourself to the limit. Wild Tee it's the first clothing line that allows you to run in style.