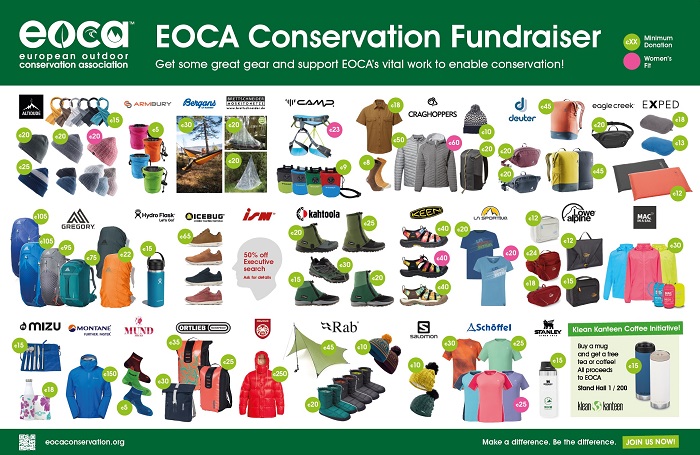 With OutDoor by ISPO just around the corner, the European Outdoor Conservation Association (EOCA) has been overwhelmed by the donations it has received from its members to help raise funds to support the association and its vital work.  Products from 28 brands have been generously donated for the on-stand conservation fundraiser, including, for the first time ever, money off an executive job search.
From packs to pillows and harnesses to hammocks, there is an array of outdoor kit that will be available on EOCA's stand at the MOC in Munich in Hall 1 / 306 at special prices throughout the length of the show, including from a number of members that are donating for the first time:  Altidude, Armbury, Icebug, ISM Search Ltd, Mac in a Sac and Montane.  EOCA's stand and artwork has been very generously provided by Messe Munich, free of charge.
Klean Kanteen is holding a coffee initiative on its stand in Hall 1 / 200 where visitors purchasing a mug are offered a free tea or coffee until supplies run out, with all monies going to EOCA.  Montane has donated a small number of its new Men's Phase Nano Waterproof Smock, its lightest and most breathable waterproof Gore-Tex shell which is currently an athlete only piece and won't be available to the general public until Spring 2024.  Finally, in return for a minimum donation to EOCA, ISM Search Ltd is offering one company 50% off an executive search.  This means that the purchaser will pay just 12.5% of the annual salary package of a new employee rather than 25%, which is its normal fee.
Joint General Manager Tanya Bascombe said, "The number of companies that have got involved in our conservation fundraiser for this show has been higher than pre-COVID shows.  Following COP15 last year and increasing awareness of the dire situation our planet is in with regards to biodiversity loss, climate change and pollution, we are thrilled that our members are stepping up in this way to help EOCA's vital work to enable conservation of our wild places."
Finn Carlsen, CEO and Owner of ISM Search Ltd added, "ISM has been a committed supporter and member of EOCA since 2011.  Despite not having physical outdoor products to sell, we are proud to be able to be involved in helping to raise funds for the association's increasingly important work to restore and protect the great outdoors."
Companies interested in the offer from ISM Search Ltd should contact EOCA at info@eocaconservation.org for further information.
INFO: EOCA