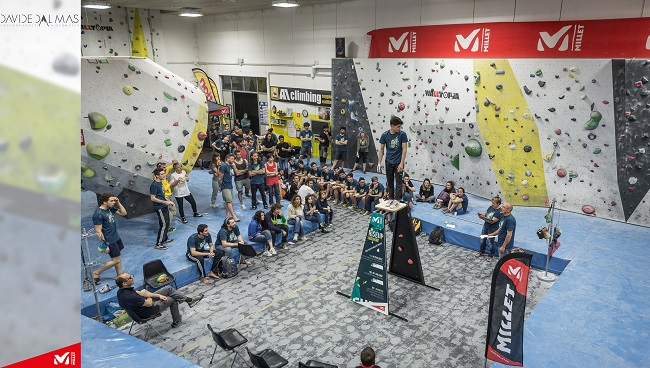 The International Millet Rise Up Tour kicked off in Italy with its first leg in Reggio Emilia on April 13, a very successful event that anticipated the prestigious appointment of Milan, on May 13.
From 18.00 to 24.00, the Boulder&Co gym in Agrate Brianza hosts the challenging Tour that the French brand Millet dedicated to climbing competitions all around Europe this summer.
Along with committing boulder races, during the evening lights will be on the Rise Up Machine, core of the event with its Rise Up Contests aimed to test your own agility, rapidity and ability.
Pageants will be given the opportunity to test Millet products from Roc Session range dedicated to climbing, such as Myo Sulphur shoes, specifically designed for indoor climbing.
Millet will reward the most skillful athletes with great prizes: mountaineering backpacks Prolighter 22 and 27 LD, crash pads, Rock Land 38 backpacks for carrying easily all the boulder materials and magnesium.
The Millet Rise Up Tour will reach again Italy on May 26 in Rome (Monkey Island gym) and on June 25/26 in Arco (TN) at the Rock Master Stadium.
To subscribe for the competition in Milan: www.bouldereco.com/
INFO: Millet Rise Up Tour