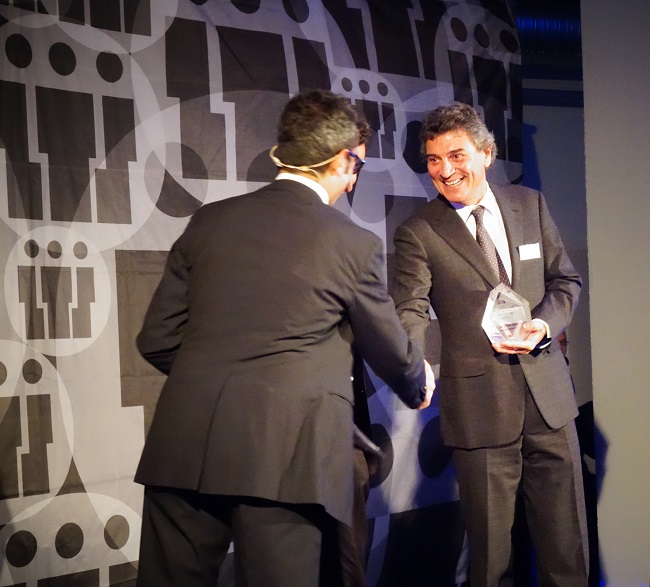 For the second consecutive year, La Sportiva, the 100% family run company from Trentino and ambassador of "made in Italy for export" was awarded the title of "Fashion, food and furniture – The value of the 3F trademarks" during the award ceremony promoted by the LC Publishing Group and organized by the ICM Advisors, to reward those brands which during the year had distinguished themselves for economic excellence (growth in turnover and profitability) and marketing (strength and potential development of the brand).
La Sportiva, a company which exports 80% of its production of technical footwear and mountaineering products to over 70 countries in the world, has been awarded for its heavy investment in internationalization by effectively developing their brand and their business in foreign markets. The award ceremony took place at the beginning of November in Milan and the list of the Top 50 companies was selected on a sample of 1100 Italian brands with a turnover of between 30 and 300 million Euros.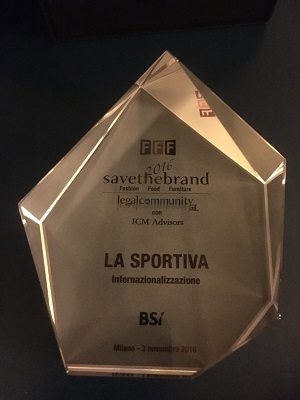 The aim of the research undertaken by the ICM Advisor is to have a clear understand of the so-called system of 3F sectors (Fashion, Food, Furniture) by assessing the brand: the most tangible of intangibles. Which are the brands that grow the most? Which are the more effective in turning strategies into business profitability? Who are the future ambassadors of "Made in Italy" across the border? Answers to questions like these were answered by the 2016 Edition of the research "FFF Save The Brand" which awarded not only "established champions" but also "rising stars" that are emerging thanks to a strong focus on brand management.
An essential map for the Made in Italy community, made up of companies and professionals who closely follow the evolution of the best brands and have the need to understand the trends and the demands to which the 3F sectors are evolving.
"This is the result of courage, passion and strong investments in innovation, all of which contribute to making the "made and designed in Italy " label all the more prestigious on the foreign markets – says Lorenzo Delladio, President and CEO of La Sportiva upon receiving the award – and the company does not stop here as was surely demonstrated by the imminent opening of a new, latest generation "Innovation Centre" recently built right next to our production facility in Ziano di Fiemme: the tangible proof of how essential it is for us to make and think in Italian. "
For more information about La Sportiva and its history. 
INFO: La Sportiva