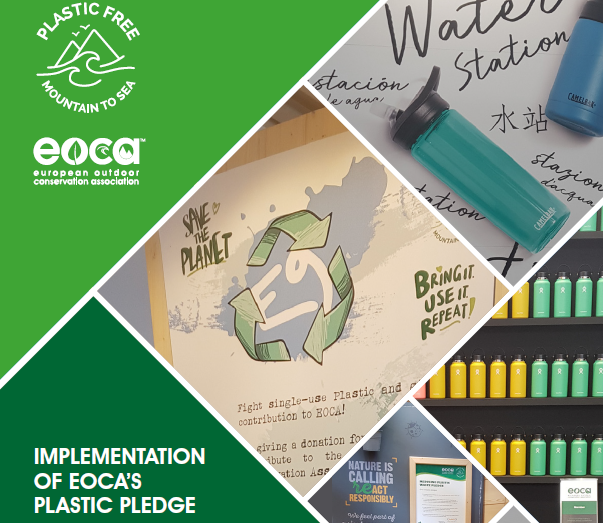 The European Outdoor Conservation Association (EOCA) was delighted to see the effects of the launch of its Plastic Pledge during the recent 4 day OutDoor by ISPO trade show in Munich and the reduction in single-use plastic waste it led to.
Having launched its Plastic Pledge just 2 months before the start of the show, nearly 60% of EOCA's members who were exhibiting at the show signed the Pledge to reduce single-use plastic waste at OutDoor by ISPO and beyond. The Pledge committed exhibitors not to use or provide single-use plastic bottled drinks, take all possible measures to avoid single-use plastic food or drink items and to provide a source of drinking water for visitors and staff to use to refill their own bottles and mugs throughout the 4 days.
The way companies used the Plastic Pledge and its Bring it. Use it. Repeat! strapline to eliminate single-use plastic on their stands varied greatly. The show saw the provision of glass water jugs and drinks dispensers and water fountains with a selection of still or sparkling, room temperature or chilled water with or without added cordial. There were glass jars and tongs to choose your own sweet treats at the 'candy bar', coffee grinders to eliminate the use of coffee pods, artwork printed on cardboard, reusable food containers and cutlery for hire, changing single use plastic bags to custom-made recycled cardboard boxes for shipping sleeping bags and requiring all the other companies on a shared stand space to carry out the actions as well. One member reported having reduced its overall waste from the stand by 75% as a result.
In addition, the Messe itself got involved in reducing single-use plastic by not only providing free drinking water fountains and washing up facilities in each of the exhibiting halls but by also removing 70% of the single-use hallway carpets – whose lifespan of just 4 days is a huge and unnecessary waste of resources. There was also a kiosk in the East Entrance to purchase reusable mugs and bottles for those that had forgotten to bring their own. Tanya Bascombe, Joint General Manager said, "We are overwhelmed by the take up of the Plastic Pledge and how our members are leading the way by using their own creative ways of altering their habits. EOCA sees this very much as a starting point, not a one-off action. We are now working with members, the Messe and others to expand the number of exhibitors signed up to the Pledge and looking at other ways to further reduce single-use plastic at tradeshows".
For more information about the Plastic Pledge and how to get involved please contact:
info@outdoorconservation.eu or go to outdoorconservation.eu/plasticpledge .
Non members of EOCA are also welcome!